Spring Season Diaries, part 5: Classic Comedies at ABT and NYCB
Mearns and Veyette in MSND, photo @ Andrea Mohin
NYCB ended its spring season with its traditional run of
A Midsummer's Night Dream
. This is a timeless comedy that almost always sells out no matter who's cast. It's the spring
Nutcracker
. In recent years Peter Martins has mixed seasoned principals with debuting corps members, and so it was here.
The May 26th performance had only three principal dancers in the cast: Anthony Huxley (Oberon), and the divertissement dancers (Abi Stafford and Adrian Danchig-Waring). There's no need to talk about Huxley -- he's the finest technical male dancer of the company, period. His scherzo was a master class of soft landings, deep plies, beautiful soaring jumps, clean lines, pointed toes. He could be more extroverted in his presentation but the beauty of his dancing speaks for itself. Nor is there much need to talk about Abi Stafford in the divertissement pas de deux. She gave the same efficient, uninteresting performance she always gives.
But let's talk about the rest of the cast, since everyone else was a soloist or corps member. How did they do? We'll start with the great. Harrison Ball made a smashing debut as Puck. He might be the best Puck I've ever seen -- funny, engaging, beautiful jump, but with an elegant body line that suggests a little fairy. His mime was clear and well-articulated. The other Harrison in the company, Harrison Coll, was also absolutely adorable as Bottom. His duet with Titania was funny, but also a little sad, as we in the audience know that their love isn't here to stay. These two wonderful dancers deserve more opportunities, and I'm glad Peter Martins is giving it to them.
The Athenian lovers also had some corps members debuts: Cameron Dieck (Lysander) and Peter Walker (Demetrius). These are not big roles, but the debuts gave them some extra energy to amp up the comedy of the lovers' antics. In contrast, their female counterparts (Ashley Laracey as Hermia and Brittany Pollack as Helena) did all the schtick without much conviction. They danced well, they just weren't very funny. Silas Farley in his debut as Titania's Cavalier ran into a few partnering snags but otherwise continues to be one of the most striking male corps members -- tall and handsome with a sweet face. Gina Pazcoguin powered through Hippolyta's solo with some impressive multiple fouettés, while Claire von Enck struggled through her Butterfly. She fell off pointe in her opening solo and just couldn't get it together for the rest of the evening. Andrew Scordato danced Theseus and I know it's not his fault but in his costume and wig he looked too much like Joffrey from
Game of Thrones.
Miriam Miller as Titania, photo @ Paul Kolnik
The snag of the night was Miriam Miller's Titania. She made her
debut
last year as an apprentice. She's now had a year of experience in the corps. There's wonderful things about her performance -- she's beautiful, long-limbed, with an understated style and an unaffected, sweet stage personality. Her Titania is kittenish but likable. But dancewise she is not quite ready for prime time. She needs to strengthen her core -- as of now she doesn't have the strength either to stay on pointe for extended, exposed periods of time, or to stretch her body and limbs and hold the poses in a sculptural way. You noticed this during the lifts -- she has trouble staying in position. There was shakiness in her pas de deux with the Cavalier, which I might have chalked up to partnering problems but she was also unsteady in the solo développés or arabesqeue. Titania can't just be a tall leggy blond. I remember seeing an aging Darci Kistler quaking through the role. You need a lot of strength and right now Miller isn't there yet.
Tiler Peck and Tiler Angle, photo @ Paul Kolnik
In contrast, the 5/27 performance had almost all principals and soloists in the major roles. Only exceptions: Kristen Segin making an impressive showing as Butterfly, and Andrew Scordato again dancing Theseus. This more seasoned cast certainly understood timing and comedy better -- Andrew Veyette may have had some hard landings and fudged beats in his scherzo, but he captured the pompous, annoying personality of Oberon perfectly. Other standouts: Taylor Stanley as Bottom, Lauren King as Helena. King brings a joy, spark, and radiance to everything she dances and I hope she gets promoted to principal soon.
The key difference in the performance came from Sara Mearns as Titania and Tiler Peck/Tyler Angle in the Divertissement. Sara projects a certain strength and authority that Miller just doesn't have as yet, and what's more, Sara's
dancing
has strength and authority. If Sara's leg shot up, it could stay there until she chose to lower it. As a result, the physical shapes of Balanchine's choreography were articulated. Sara is also an excellent actress -- her Titania was simply funnier than Miller's. As for Tiler and Tyler in act two, well, they're as good as it gets. Tyler is hands-down the best partner in the company, and Tiler has an incredibly strong core -- she slowed the multiple promenades into almost absolute stillness, without ever
stopping
, if that makes sense. She just had that much control in her balances in arabesque that she could play with the tempo and stop time. The pas de deux ended with Tiler falling face forwards only to be caught by Tyler and then turned slowly so her body made a perfect arc. Trust and faith in your life partner -- that's Balanchine's homage to a mature marriage. It was a mesmerizing reverie, and the audience responded by huge bravos.
And so that's the NYCB season in a wrap. Just in the spring season alone I attended 11 performances, and once again I'm amazed by the depth of the company. There were dancers who went on maternity leave (Ashley Bouder), dancers who got injured (Ashly Isaacs, Ana Sophia Scheller, Joaquin de Luz), dancers who retired (Craig Hall and Jennie Somogyi), dancers who came back but in a very limited way (Maria Kowroski and Robert Fairchild), but the flow of the season and the quality of the performances was never affected. I can't even imagine the amount of competition in the company, as everyone is so strong. So many wonderful performances all season to savor, but a few stick out in my mind: my return to Mr. B's
Nutcracker
after a several year hiatus (and what an Nut that was!), the amazing series of
La Sylphide/Tchai Piano Concerto #2
performances in the winter (I saw three casts, all great in their own way) and the
Concerto DSCH
debut performance in which Joseph Gordon, Harrison Ball, Sterling Hyltin and Adrian Danchig-Waring all made their debuts and were all stunning.
Dancing chickens in Fille, photo @ Andrea Mohin
At ABT, there was a welcome revival of another classic comedy -- Sir Frederick Ashton's
La Fille Mal Gardée
. I first saw this ballet 13 years ago and was enchanted, but have had no chances to see it live since. ABT's revival of Ashton's most charming work was leagues different from their indifferent, sluggish
Sylvia
earlier this season. The corps looked energized and together. All the character roles were cast from strength. Roman Zhurbin absolutely ate up the role of Widow Simone -- he's a huge guy but he can move fast, as he proved in his clog dance. Craig Salstein also stole every scene as the simple-minded, umbrella-loving Alain. The big "umbrella" leap frog jumps were performed with panache. Alexei Agoudine danced up a storm as the dancing chicken.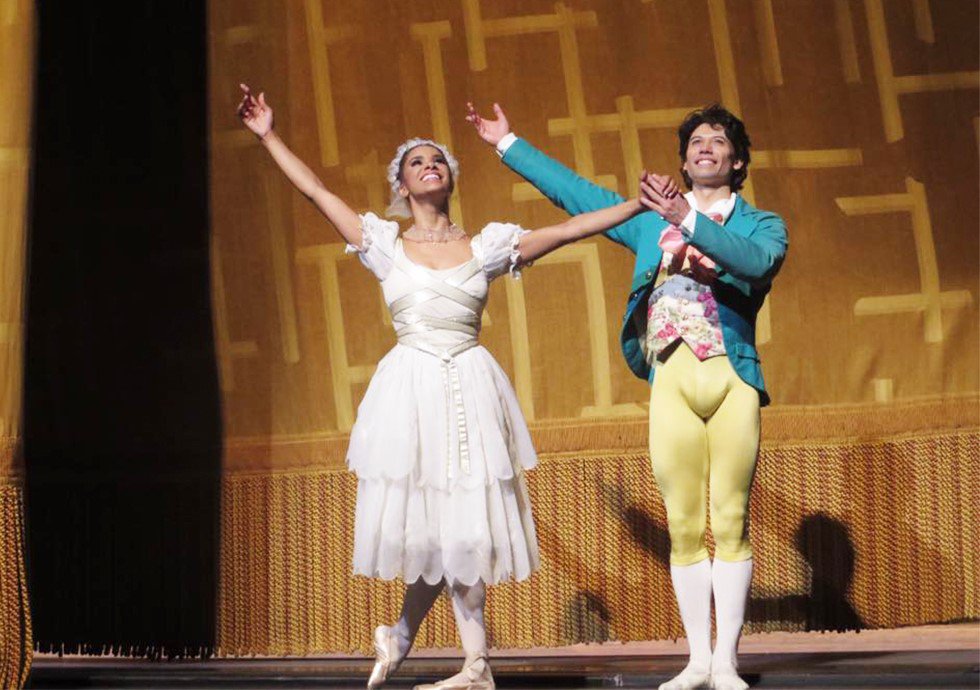 Cornejo and Copeland, via Herman Cornejo's twitter
Misty Copeland and Herman Cornejo were the young lovers. Misty Copeland is not always my favorite dancer -- her aggressive self-promotion often doesn't match her small-scale dancing. She has almost no jump and occasionally weak ankles and pointes that make pirouettes hard. She was however delightful as Lise. Her interactions with her mother seemed organic and believable, and her chemistry with Cornejo was surprisingly strong. She was funny and spunky, exactly the way a Lise should be. This role calls for acting and stage personality over pure technique, but Copeland acquitted herself well with some of the challenges of the choreography-- those super-fast steps on pointe in the coda of the Fanny Elssler pas de deux went off without a hitch. The only real moment of weakness was her promenade with the maypole ribbons -- she couldn't coordinate the rotation with the maypole and got sort of stuck. And I still wish she had some semblance of a real jump. But overall lovely performance.
Cornejo (Colas) was his usual marvelous self -- in addition to the ability to churn out pirouettes a la seconde as if it were as easy as brushing one's teeth, he really brings out the best in everyone onstage. I'm convinced he can have chemistry with a rock. He's so virile, so charming, really a dream man, and he emphasized the erotic aspects of Ashton's choreography so that it wasn't just stylized ballet passion that we were witnessing, but real horny young lovers passion. Throughout the ballet he was kissing her everywhere -- neck, arms, hands. He'd sneak a kiss on the neck at the picnic, exactly the way young lovers often can't contain their passion even in public. In the act two pas de deux when he picked up Copeland from behind a doorway and we just saw her quivering legs the ballet the audience cheered, as they would if a marriage proposal was done in public. Their cat's cradle pas de deux was adorable. The whole ballet is adorable. The recurring themes of love and community gives one the warm fuzzies. Bring it back often, ABT!