The Best Moments from the Met At-Home Gala
Zoom in!
So the big Metropolitan At-Home Gala ended up being 4 hours-long (!!!), and had the expected glitches in wifi connection, as well as some of the usual vocal highs and lows that are par for course with big galas. Also: these voices are OPERATIC and when they sing they PROJECT so it was weird and occasionally painful to hear them blasting the microphones of their iPads. But overall it was a lovely afternoon of music-making that certainly gave reasons for people to donate to the Met during these difficult times (I know I did). Here were my favorite moments:
1.
Best sing-along
: The Met orchestra and chorus in a pre-recorded Zoom edition of "Va, pensiero." Was it a note-perfect rendition? No, but who cares? The chorus made singing along at home easy and some of the lyrics could have been written for April 25, 2020:
Oh my country so beautiful and lost!
Or so dear yet unhappy!
Or harp of the prophetic seers,
why do you hang silent from the willows?
Rekindle the memories within our hearts,
tell us about the time that have gone by
Or similar to the fate of Solomon,
give a sound of lament;
or let the Lord inspire a concert
That may give to endure our suffering.
It's also important to remember these artists
performed while unpaid
. So, if you can spare a dime and support the Met musicians, spare that dime.
2.
Best Vocal Fireworks
: Erin Morley accompanying herself on the piano and singing a spirited rendition of "Chacun le sait" from
Fille du Regimen
t which she capped with a mic-frequency busting high F. She was charming, funny, spunky -- everything Marie needs to be. I loved the "Vive le Met" sign she held up at the end.
3.
Best rendition of an overdone chestnut
: The Met orchestra in another pre-recorded segment: the Intermezzo from
Cavalleria Rusticana
. I have to admit I have no idea what happened to me while watching this -- I've heard this piece so often both in the opera house and on the radio. It's never been one of my favorites. But I ugly cried through all of it. I think it was the sound of the plaintive strings -- they sounded like the earth was weeping.
4.
Most OPERATIC performance
: Aleksandra Kurzak and Roberto Alagna in a wild, freewheeling "Caro elisir" that included Kurzak pouting exactly as Adina would have done and the exuberant Alagna holding a
Salome
score upside down (Nemorino is illiterate) and climbing up ladders as well as busting out his guitar for a few verses of "O sole mio." While other singers gave fairly straightforward musical presentations the Alagnas acted like their living room was their stage. Kudos also to Ailyn Perez and Soloman Howard doing some Method acting with Howard (Wurm) creepily rubbing Perez's arms and Perez cringing during the Luisa/Wurm duet from
Luisa Miller
.
5.
Best nostalgia trip
: Renee Fleming proved it
was
possible to go home again. She sang "Ave Maria" from
Otello
, Desdemona is a role she first sang at the Met
over 25 years ago
, and yesterday she sang the whole aria with little vocal wear and tear. She made that treacherous ascent to the exposed A-flat with stunning vocal security. Is 60 the new 40? Also, René Pape sang a wonderful rendition of "In die heil'gen" from
Die Zauberflöte
. Pape made his debut in Sarastro
in 1991.
Much respect.
5.
Best preview of the future
: it's hard to think about the future when the present is so uncertain. But some singers sang arias from operas that they had yet to debut in -- Jonas Kaufmann sang from Halevy's
La Juive
, for example. And then Sonya Yoncheva sang a heart-rendingly beautiful rendition of the "Song to the Moon."
Rusalka
is scheduled for the upcoming Met season. Seeing Sonya Yoncheva's Rusalka suddenly jumped to the top of my wish list.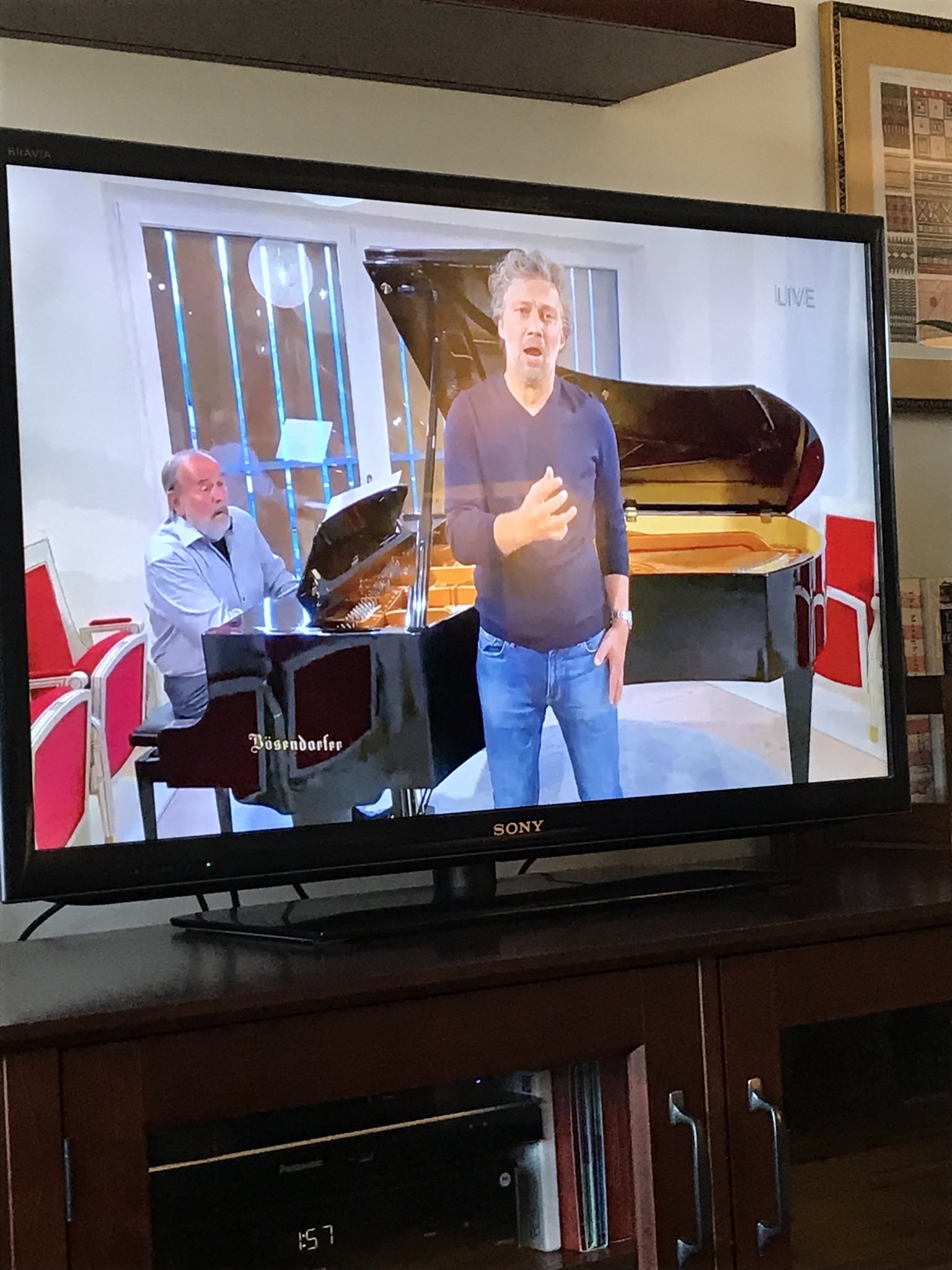 From Michael Cooper's twitter
6.
Best reminder that opera stars are just normal people:
The unfiltered quality of it all. All the gray hair/no hair, no makeup, no shaves, wrinkles, and quirky living rooms we saw. Jonas Kaufmann in jeans? Love. René Pape has a rubber ducky version of himself on the piano? Love. Elina Garanča rocking an iPod mini like it's 2004? Love. Matthew Polenzani calling himself "Sir Matthew"? A little odd, but love. In these quarantined times, no one has access to a hair salon or botox or the wig department. Opera singers are no different.
7.
Best non-chestnut
: Galas tend to bring about safe programming and this gala was no exception. "Recondita armonia"? Check (Piotr Beczala). "Depuis le jour"? Check (Angel Blue). "O don fatale"? Check (Jamie Barton). "Mon coeur?" Check (Anita Rachvelishvili). "Habanera"? Check (Elina Garanča). "Nemico della Patria"? Check (Ambroglio Maestri). "Danny Boy"? Check (Matthew Polenzani). But bass Gunther Groissböck accompanied himself on the piano as he sang the lovely "Wie schön ist doch die Musik" (How Beautiful is the Music) from
Die Schweigsame Frau
, which I admit is the one Richard Strauss opera I've neither seen nor heard. It was one of my favorite selections of the afternoon.
8.
Best tribute to the many who have passed away because of this virus
: the Met orchestra's viola section and Joyce DiDonato in Handel's "Ombra mai fu." Met violist Vincent Lionti passed away from Covid-19. If you didn't cry during this tribute then you probably didn't cry during
Bambi
either and everyone cries during
Bambi
.