Jennifer Homans' Mr. B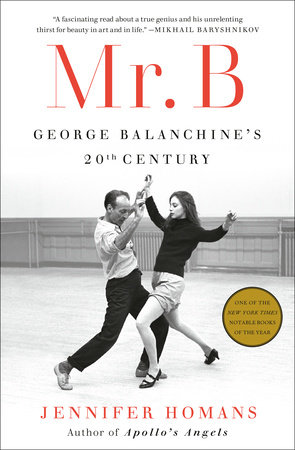 Tomorrow, NYCB starts its annual
Nutcracker
season. Countless little children in the audience will ooh and ahh and the growing tree, they'll be wowed by the gliding child angels, they'll sigh when the very pink Sugar Plum Fairy makes her boureeing entrance, and they'll scream at the Candy Cane jumping through the hoop 11 times in a row.
Very few in the audience will know much about the man who made this magic happen. That was very much by design. George Balanchine kept no diary, had little correspondence, and rarely gave interviews. His life and legacy was in the ballets.
And astonishingly, there has never been a comprehensive biography of the man. There have been priceless books -- many of his dancers wrote books describing their experiences working for him (my favorite: Jacques d'Amboise's gossipy, fun I Was a Dancer), and he inspired some of the sharpest critics to write their most memorable reviews.
That is, until Jennifer Homans' Mr. B. Homans' biography is exhaustive. She poured through his correspondence, visited places that were important milestones in his life, and interviewed as many people who knew him as possible. This book immediately jumps to the top of the list in terms of reference books about Balanchine.
The magical, mystical Serenade
Homans is a good writer, and obviously worships the man and his dances. Her dance background helps -- although this book does not replace the priceless anthologies of Arlene Croce or Edwin Denby in describing and analyzing his opus, it is peppered with sharp observations and insights about many of his ballets. For instance, with his seminal work
Serenade
, Homans observes "The ballet has no story or narrative. It is internal -- inward, like the music, and more of a prayer or ritual than a theatrical spectacle." Or about
Four Temperaments
: "There is sex, but it is mechanical: a woman's legs split wide open to the audience; a man's thigh jutting phallically between her legs as their bodies interlock. They do not melt or romantically join, but instead assemble like assembly parts." This is someone who knows her Balanchine canon.
She also understands the hectic backstage world of ballet. She admires the dancers and the creators of ballet, but she also makes note of the practical matters -- the money woes, the union contracts, the injuries and unplanned pregnancies that threaten to derail any season. Homans says that Patricia McBride used to down a Coca-Cola before jumping onstage. These are the humanizing details we need.
Apollo was Balanchine's oldest surviving work
He was born in 1904 -- birth name was Georgi Balachivadze to a Russian mother and Georgian father. A lot of Balanchine's life is familiar to balletomanes -- his upbringing at the Imperial Ballet School in Russia, his stint at Diaghilev's Ballet Russes, his time in Hollywood and Broadway, his meeting with Lincoln Kirstein, the founding and growth of both the School of American Ballet and NYCB, his partnership with Stravinsky, his five marriages and countless muses. Despite the fact that Mr. B's life is so well known, Homans sheds new light on the man even if it covers familiar ground.
Homans conducts an autopsy on each of his failed marriages and even more failed relationships. The relationship trajectory between Balanchine and his wives and loves follows a familiar pattern each time -- a quick infatuation, an even quicker commitment, a period of productivity in which Mr. B was inspired to make ballets for his new muse, followed by the inevitable estrangement, before (usually) settling into a lasting platonic friendship. Some of this ex-wives went to work for him. Alexandra Danilova (wife #2) taught for many years at the School of American Ballet.
But even with this set pattern, the correspondence Homans digs up brings out a human side to Mr. B. It's sad to read his love affair with Vera Zorina: "I now (know) you think I am cold, with no feeling ... and maybe you don't care much. I am afraid your remark about Leonid (Massine) is not a joke. I see you still want him." Massine had been Zorina's former lover.
Farrell and Balanchine in Don Quixote, his love letter to her
We learn that Suzanne Farrell declared that she had no intention of being his Mrs. Sixth Wife, that as Mr. B's marriage to the bossy, poker-playing Maria Tallchief fell apart he despaired, "I don't need a housewife. I need a nymph who fills the bedroom and floats out." All of these moments make Balanchine seem more than the remote ballet god.
Homans spent so much time interviewing her subjects that she really knows them. For instance, this is her delicious description of Suzanne Farrell's personality: "Suzanne had that mellifluous voice that glides past difficulties ... Injured, sultry, a bit pious, she spoke with that little girl voice, such a little girl voice that it seemed at least partly a manipulation, but it worked on herself more than anyone else." I've sat through several Farrell interviews, talks, meet-and-greets, and dammit if she didn't nail the essence of Farrell's mannerisms.
Balanchine was lovely -- polite, gentle, patient, generous to a fault ... except when he wasn't. Homans covers his cruel side as well. It's painful and distressing to read about the ways he could be cold and bigoted. That he sometimes dismissed dancers with a curt "too fat, dear." That one of his rumored girlfriends (who was barely legal) had five abortions in one year. That he didn't want his crippled wife Tanny LeClercq to visit NYCB in a wheelchair, and that he dumped her heartlessly for Suzanne Farrell just as Farrell married a younger, more age-appropriate dancer. That he pointedly only wanted a heterosexual male to replace him at NYCB -- gays and women were not allowed. That he didn't want his female dancers bringing their children to the theater -- out of sight, out of mind. That when he visited his brother Andrei and Andrei played some of his own compositions, Balanchine couldn't muster a single kind word. That because of his fiercely anti-Communist beliefs, he was a conservative Republican and hesitant about civil rights. Homans reports on all of this dutifully, with a minimum of apology.
Homans at times stuffs the book with too much information. It's one of her habits to give a brief rundown of the current events and social milieu for each milestone of Balanchine's life. This is charming at first, but grows tiresome as one reads the book -- for instance, did we really need such a long spiel about Lincoln Kirstein's Boston Brahmin background? Do we need to find out the ethnic background of EACH dancer at NYCB? Did we need to read "Barbara Walczak, small, with an analytic mind, was the child of Polish Catholic (and converted Jews) painters, actors, and writers, who sent Barbara to SAB at thirteen ... Pat McBride (later Lousada) was Irish and Italian. Her father was a coal miner and later an electrician and janitor in Bronxville."
Balanchine as Drosselmeier
No detail is too small for Homans to mention. A rundown of the furnishings at each of Balanchine's residences is provided -- an apartment late in life had "basic white plates and the like from Bloomingdale's and Macy's and the five-and-dime." The furniture: "a white sofa, green loveseats, a dining table, a small wine closet, and the requisite ironing board -- no piano even." There's also tiresome accounts of the churches Balanchine visited, and the various Russian Orthodox rituals he maintained. Mention it once, yes. Mention it ten times, and one thinks of how efficient and minimalist Mr. B's ballets are and thinks Homans needed to follow Mr. B and learn "how to eliminate."
Still, there's a generosity of spirit and liveliness about the book that very much reflects Balanchine's expansive choreography and his essential goodness as a man. Homans likes her subject, and seems to have had the time of her life researching and interviewing for the book. That energy is obvious throughout, and makes the book fun to read.
So tomorrow night, as I sit in the audience for my umpteenth Nutcracker, I'll know that the man who created such magic also personally sewed the costumes on opening night in 1954. Homans' Mr. B is a treasurable book that takes us behind the curtain.