Farewell Sterling
Sterling in a signed photo as SPF
I first started attending NYCB about 20 years ago. I was not impressed -- I found their performances sloppy, their abstract ballets remote. Back then, my idea of ballet was Giselle or Romeo and Juliet. This attitude infuriated a friend of mine. But in 2011, I bought a ticket to NYCB on a whim. I remember the program: Prodigal Son/Mozartiana/Stars and Stripes. I remember nearly crying with joy at Stars and Stripes. The very next day I snatched up a bunch of tickets to NYCB, and the rest is history.
If you follow a company, you need a dancer to follow. For several years, I followed the company but not any dancer in particular. Maybe Tiler Peck because her technique was so amazing. I thought everyone was good, and a few dancers were more than good. Sterling Hyltin was just another really good dancer in a company of good dancers.
Sterling in La Sylphide
The "aha" moment was when she danced La Sylphide. I was prepared to be unimpressed -- I couldn't picture any NYCB dancer really "getting" the Bournonville style. Instead, Hyltin was the most natural non-Danish Sylph I've ever seen. She was light, mischievous, enchanting. Her feet never seemed to touch the ground. Other capable ballerinas took on the role of Sylph in alternating casts, but only Hyltin remotely resembled what I imagine Marie Taglioni was like. I officially become a Sterling junkie.
Once Hyltin became the ballerina I followed, going to NYCB was so much fun. I swapped out countless tickets to see her rendition of a role. My friends at the ballet were also huge Sterling fans, and we enjoyed meeting up at intermission to talk about how great she had been in such-and-such ballet. We'd also check the casting sheets obsessively so we could swap out tickets to see her instead. This was especially important in Nutcracker season, when tickets can be hard to come by and very expensive. The Sterling fan club members are my good friends now.
After
La Sylphide
, I realized something -- Sterling Hyltin was not a stereotypical Balanchine ballerina. She was not the tall, remote goddess so fetishized by Balanchine. She was short, birdlike, with a sweet disposition. Her skillset also was not that of a typical Balanchine ballerina. While her footwork was accurate and could handle the demands of the choreography, the super-fast allegro dancing so prized at NYCB was not her forte. She was not going to storm through
Allegro Brillante
,
Ballo della Regina
or
Theme and Variations
. Her strength was never going to be the crowd-wowing, bravura technique.
Mozartiana
But ... Hyltin was a remarkable dancer. She was small, but danced huge -- her long limbs and expansiveness of movement added to the illusion of her being taller than she actually was. If she couldn't zip through Theme and Variations, she offered things NYCB ballerinas usually do not: marvelous elevation (she had a big, airy jump), silky smooth bourrées, beautiful epaulement (I could recognize her just from the distinctive, proud way she holds her neck), and a real legato in her movement. She didn't chop up the steps into distinctive counts, but instead connected them seamlessly. Hyltin was an ethereal Marie Taglioni in a sea of Fanny Elsslers. The contemporary dancer Hyltin reminds me the most of is actually Alina Cojocaru -- both impressed not with the speed of their footwork, but with their grace, lightness, and lyricism.
Pink Girl in DAAG
There were also the intangibles -- she was the epitome of charm, innocence and sweetness. She brought these qualities into almost every role she danced. (The one role I found her miscast was Novice in
Cage
-- she was adorable, and the Novice is not supposed to be adorable!). One of her best roles was
Duo Concertant
-- I saw her dance it so many times, with so many different partners, and each time she looked like she was spontaneously responding to the violin. Another role she made me see in a new light was
Mozartiana
-- she removed the goddess-like mannerisms that were part of Suzanne Farrell's persona and replaced them with her own playfulness and wit. It was very different, but just as exquisite.
At NYCB, the onus is so much on the male partner to show off the ballerina, but Hyltin was by far the best
female
partner of the company. Whoever she was dancing with, she made it seem like she was completely entranced. She would look at them onstage with these big, adoring eyes and bright smile and it was magic each time. I remember her doing this with several different Brown Boys in
Dances at a Gathering
(she was Pink Girl). Each time, the Brown Boy would respond in kind. It was a sort of alchemy only she could make happen night after night.
As Nellie Olsen aka Swanilda
Hyltin also knew how to put a character across in story ballets. She exceled as Sugarplum Fairy in
Nutcracker
, Swanilda in
Coppelia
, Aurora in
Sleeping Beauty
, the Sylph in
La Sylphide,
Sleepwalker in
La Sonnambula.
Her Swanilda was a Nellie Olsen-lookalike terror with blond ringlet curls and a sadistic energy. She alone made something of Martins' clinical
Swan Lake
and
Romeo + Juliet
. I will forever be sad she never danced
Giselle
. She would have been wonderful.
Eventually, my ballet hobby/passion was parlayed into reviewing dance for Bachtrack. I was now "legit" (I had my own press tickets and everything!), so I had to be diplomatic and objective. I'm not sure how objective I was about Hyltin though -- I adored her dancing that much.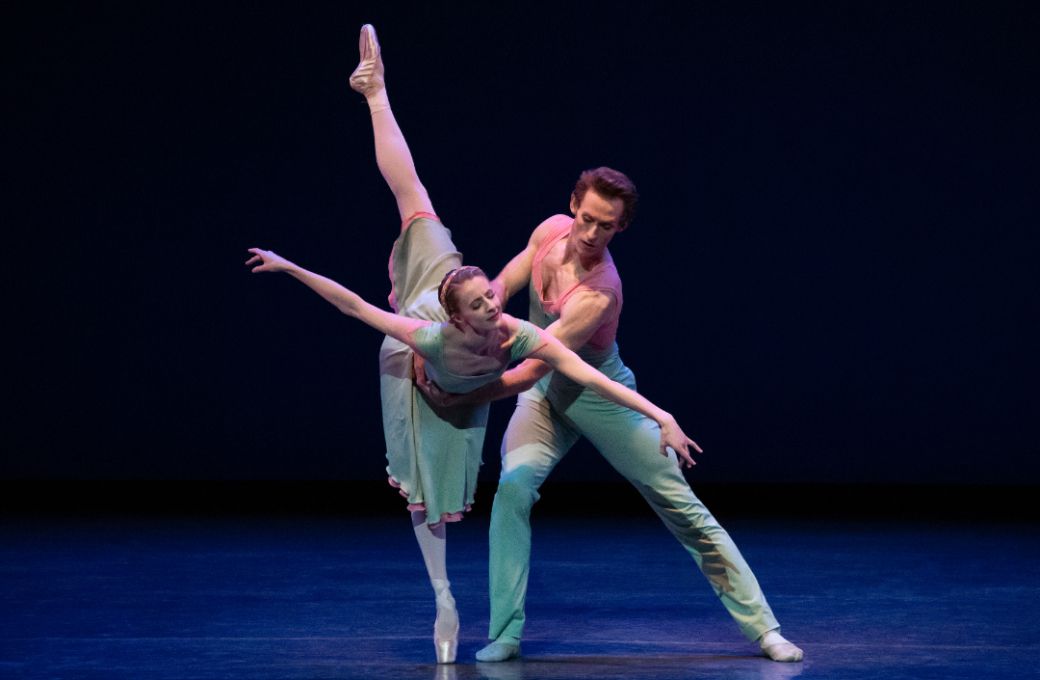 In DSCH
Hyltin anchored a lot of milestones for me at NYCB. I remember a catastrophic ankle injury as the time I crawled to see her Pink Girl in DAAG before limping out in excruciating pain. When the company finally reopened after the pandemic, it didn't seem quite real until I saw her grand jete across the stage in Serenade. Then I was like "Ok, that's really her, and NYCB is back."
When I heard she was retiring, I of course was very sad. She was still dancing so well. This past fall season, she flew through
Symphony in Three Movements
like a rocket. She was stunning in
Scotch Symphony
(another very Taglioni-esque role). She even made a debut in the Last Waltz of
Vienna Waltzes
, where she and former partner Robbie Fairchild made it seem like they were dancing only for each other. In her last repertory performance she was so lovely in the andante of
Concerto DSCH
that I got a lump in my throat. She was retiring on top.
It's fitting she retired with Nutcracker. It was the role that she was the most special in, a real marriage of role with dancer. So I sat through her wonderful Sugarplum Fairy two more times (I went to opening night as well -- review is at bachtrack). To be honest at her farewell performance I barely paid attention to the program. I just kept thinking how incredibly blessed I was that I got to follow her career for so many years. She brought beauty and joy into my life. So, so grateful.
This is the video of her curtain calls. Note the gorgeous grand jete she throws in at the very end.