Boylston/Simkin, Abrera/Royal, Forster/Agoudine
Handwringing over ABT's weak principal roster has come to an all-time high this season. In short: Daniil Simkin will be dividing his time between ABT and Berlin next year, Jeffrey Cirio is leaving to English National Ballet, David Hallberg after years of injuries needs a reduced workload, Roberto Bolle is aging and dancing only once or twice a season, which leads us with three full-time male principals: James Whiteside, Herman Cornejo (who also has suffered many injuries) and Cory Stearns.
Yet this week's run of
Don Quixote
's chart a path for ABT to become a successful company in the future. I saw three performances and at every single one there was raw new talent that made you sit up and mark down names.
The first performance (6/25) featured luminous performances by the leads Isabella Boylston and Daniil Simkin. Kitri plays to Boylston's strengths: her gorgeous airy jumps and her balances, as well as her simple, unaffected stage demeanor. She rocked it as Kitri. If you wanted a checklist of all the Kitri "tricks," Boylston checked every box. Plisetskaya head-kicking jumps? Check. Effortless hops on pointe as Dulcinea in the dream sequence? Check. Long-held balances in the Wedding pas de deux? Check. Big leaps in Kitri's wedding variation? Check. Finally, crowd-pleasing fouettés with doubles thrown in? Check. Boylston was always technically strong. Now she has the refinement and has become a real ballerina.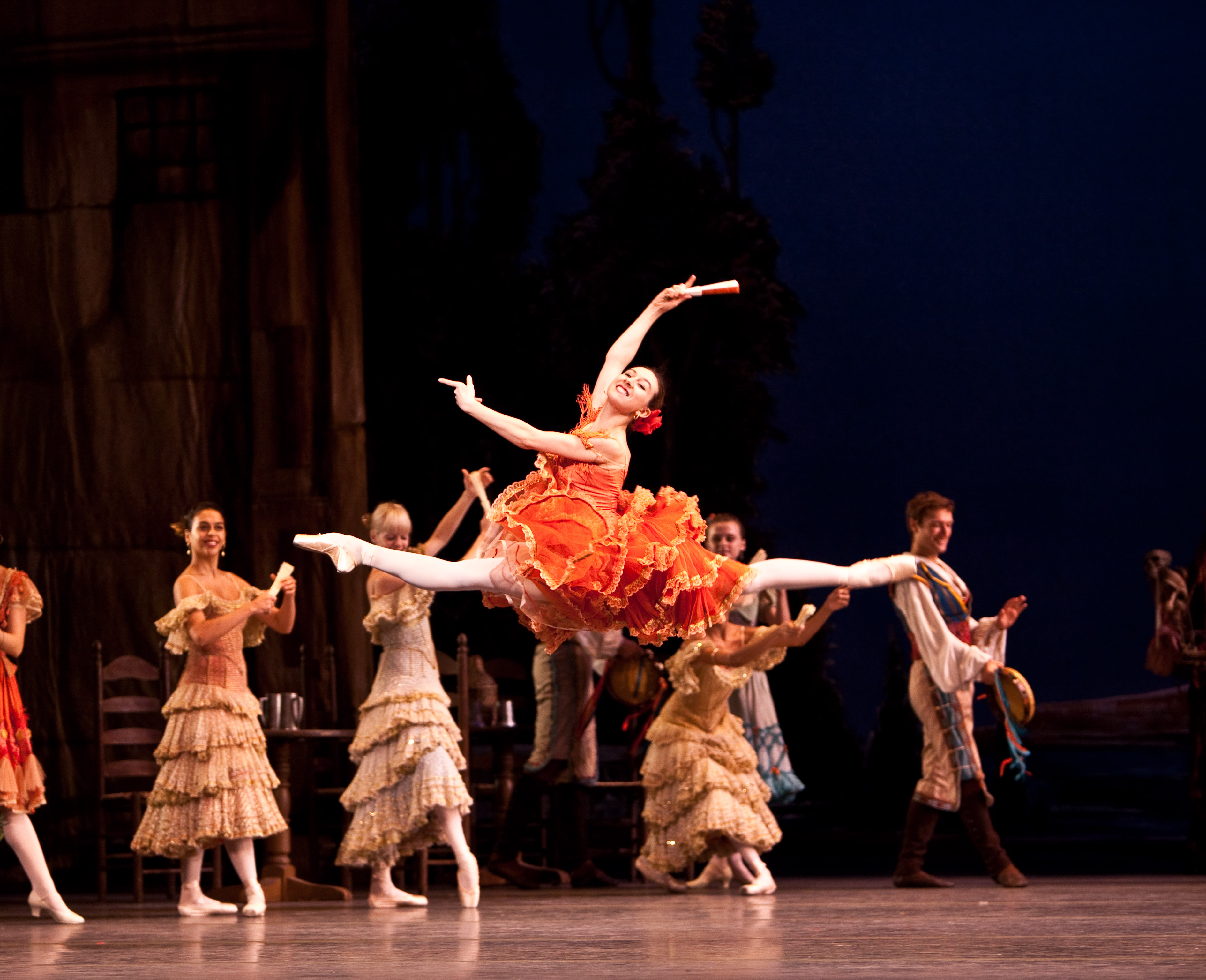 Boylston as Kitri, photo @ Renata Pavam
Daniil Simkin as Basilio was technically even more spectacular. He's sort of a freak -- his extremely flexible body gives him the impression of a mix between cat and human. I lost count of all the
540's
, octo-pirouettes, tour jetés, huge saut de basques, and other gala tricks he executed. One of his favorite skills is making 8 revolutions but going from leg in passé to leg in attitude. I found out that this was actually
a skill taught by the legendary 19th century ballet teacher Carlo Blasis
. Usually I'd find this sort of carrying-on to be too much, but this is
Don Quixote
whose only existence is to show off bravura dancing, so ... carry on Daniil! Simkin's partnering was generally good except for one wonky one-handed lift in Act One. The chemistry between him and Boylston was cute and unforced. Lovely performances from both of them.
Abrera and Royal
Calvin Royal and Stella Abrera were a dashing couple as Espada and Mercedes. First of all they're gorgeous, second of all these two roles don't push them technically past the brink. Gabe Stone Shayer as the Gypsy dancer looked like a Simkin in the making with his uber-flexible back. Shayer danced the Gypsy in all the performances I saw and he was wonderful each time -- why didn't he get promoted to soloist??? One wonders.
Corps member Katherine Williams made a wonderful debut as Queen of the Dryads -- the Italian fouettés were centered and controlled with lovely epaulement. But the real joy of this performance was seeing the potential future Kitris dancing solo parts. Cassandra Trenary as one of Kitri's friends looked like she could dance Kitri tomorrow -- she has the energy, the charm, the huge jump. Catherine Hurlin as the other friend of Kitri is taller, more regal, commands the stage. And Skylar Brandt as Amour also looked like a future Kitri.
Rounding out the cast were some great character dancers. The ABT production gives Don Quixote (Roman Zhurbin) and Sancho (Arron Scott) even less to do than usual but Thomas Forster and Alexei Agoudine were very funny as Lorenzo and Gamache. Even the corps were on, as were the children from the JKO school who now perform in the dream scene. What a wonderful performance!
Shevchenko and Whiteside, from Shevchenko's IG
The following night's performance had more polish but less visceral excitement. I had never really been impressed by Christine Shevchenko but last night she showed what a technically strong ballerinas she was. Her fouettés had some fancy arm over head with a fan positions and lots of doubles, her jump was large and buoyant (her Plisetskaya grand jetés were impressive and she like Boylston chose to do the "jumping"/relevé version of the Act 3 variation rather than the fast passé variation), and she's a real beauty on top of all that. Only real technical weakness: non-existent balances in the Act 3 pas de deux. What she doesn't have as yet is that sort of overpowering charisma that turns her performances into white-hot Events. Her Kitri smiled a lot, but there wasn't much individuality to her acting. She did less of the mime than Boylston. James Whiteside was an excellent partner (those one-handed lifts were effortless), and technically very capable (he's a good turner and fairly good jumper). He's not naturally a virtuoso dancer though and Basilio sort of demands virtuoso dancing.
Last night's Don Q cast, from Shevchenko's IG
However once again this performance showed that ABT does have a roster of talented corps members that are just begging for bigger opportunities. As the two flower girls Kaho Agawa stood out more for her lightness and charm, while April Giangusero was technically strong if a bit too forceful. Rachel Richardson was a cute Amour, needing only more height on her jumps. Zhong Ying Fang has been in the corps for years and her Mercedes was glamorous and well-danced. Fang has always been one of my favorite ABT corps ladies -- her sweet face and elegant epaulement set her apart. Blaine Hoven is perhaps one of the cleanest technicians ABT has but simply doesn't have the panache to do justice to Espada. Good dancer, wrong role.
Lane and Cornejo in curtain calls
The final performance I attended had the debut of Sarah Lane as Kitri. Overall she made a strong debut with a few caveats. First of all, there were no Plisetskaya jumps -- the grand jetés were big and bouncy but there was no back-bending head-kick. Second of all for an acclaimed Aurora her balances in the Act 3 pas de deux weren't really there. However Lane had plenty of charm in her characterization and her chemistry with Herman Cornejo was a joy to watch. Her Vision Scene was by far the best -- she seemed to float across stage in those hops on pointe . In the Act Three pas and coda her variation with those grande jetés and relevés was wonderfully light and joyful, and her fouettés were singles alternating with doubles with a fan held over the head, finished by a quadruple. There were times during the afternoon when she seemed nervous but she gained in confidence as the performance progressed. This was a very successful debut.
Herman Cornejo is getting up there in age but he's still held onto his turning and jumping abilities as well as his stage charisma. He entered, and the ladies swooned. He still has the ability to "scissor" his cabrioles and hang in the air with his amazing ballon. His partnering has improved a lot -- in Act Three the biggest applause came when he lifted Lane overhead and then dropped her in a direction reversing fish dive.
Today's Don Q had excellent supporting dancers
The Flower Girls continue to be amazing -- today it was Skylar Brandt and Betsy McBride. McBride earlier this week was an eye-catching Gypsy. She was equally strong in the jumping variation. Brandt was astonishing -- she did multiple pirouettes with leg held in an a la seconde position and then slowed them down to hold the poses, while never coming off pointe. Cassandra Trenary as Queen of the Dryads had solid Italian fouettés but needed to stretch her poses out a little more -- she's essentially an allegro dancer in an adagio role. Stella Abrera and Thomas Forster were the best Mercedes/Espada couple I saw. Forster's broad shoulders and somewhat burly build are an advantage here -- he really looked like a Matador. Another bonus was the Lorenzo/Gamache team of Roman Zhurbin and Luis Ribagorda.
This production is one of ABT's best full-lengths: it's streamlined a ballet that in Russian companies calls for the entire roster and made it manageable for a smaller company. The sets and costumes by Santo Loquasto are pretty, and it's a real crowd-pleaser that also allows for corps members to get more opportunities. And at the end of the week it was announce that Katherine Williams, Cate Hurlin and Zhong-Ying Fang were promoted to soloist. I was surprised to see that Williams has actually been with the company for 10 years and is only now getting her opportunities. Congrats ladies!