Hamilton: The Great American Musical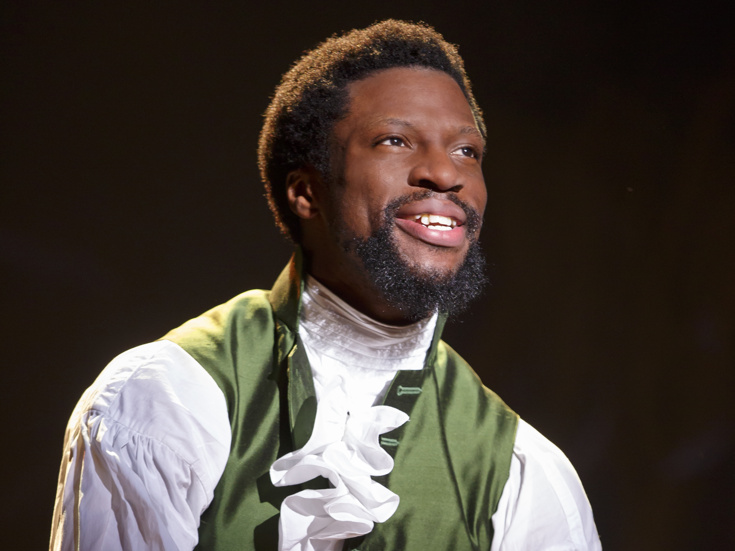 Michael Luwoye as Hamilton
June 8, 2018 is the day that I will always remember as the day I became a "rich person." Not because I make a lot of money, but I became one of those people who saw
Hamilton
on Broadway. And short of actual income bracket, I'll take this bump up of my social standing.
So ... how was it? Was it worth the three year wait? (Seriously, it took me 2 years just to get that Ticketmaster pre-sale code that allowed me to buy tickets). The long and the short of it is that
Hamilton
is a very, very entertaining, well-crafted musical. Lin Manuel Miranda mixes contemporary hip-hop with R&B, jazz, and classical musical theater styles and crafted a musical that is intelligent, funny, and thought-provoking.
Lawson and Gonzalez as the Schuyler sisters, photo @ Joan Marcus
Hamilton
is not without its flaws. The most obvious one (and the one I can't believe people haven't mentioned more) is that it's a backloaded musical. The first act is clever, with that classic transition from an "I Am" opening (the now-iconic "Alexander Hamilton") to the "I Want" song ("My Shot"). But the first act got bogged down with the business of the Schuyler sisters, who despite several songs and a love triangle storyline ("The Schuyler Sisters", "Satisfied") never really interested me. Maybe that's because the Eliza and Angelica Schuyler were sung by Lexi Lawson and Mandy Gonzalez, who were in my opinion the weak links of the cast. Lawson in particular struggled with the high notes and also made Eliza rather dour. I thought the Peggy/Maria Reynolds (Joanna Jones) had a stronger voice than both Lawson and Gonzalez. But even if they were sung by more interesting actresses it is a weakness of the musical that it remains so male-dominated. The best song in Act One besides the opening song and "My Shot" belongs to Aaron Burr. "Wait For It" is an R&B-like ballad that is probably the song I came out of the musical humming. (By the way this is one of the things about
Hamilton
-- Burr gets the best music).
The second act was given a jolt of energy by the arrival of Thomas Jefferson (who is played by an actor who doubles as the Marquis de Lafayette in Act One) and then the musical moves inexorably towards Hamilton's demise. Act Two is so much stronger than Act One in every way -- dramatically, musically, structurally. For one, the debates between Jefferson and Hamilton on Washington's cabinet are the most thought-provoking parts of the musical. Their arguments still resonate today. The best songs are also in Act Two -- the insanely catchy "What'd I Miss" from Jefferson, Aaron Burr's big dance production number "The Room Where It Happens," "It's Quiet Uptown," the heartbreaking song after Hamilton's son Philip dies in a duel, and finally, "Who Lives, Who Dies, Who Tells Your Story" is an exquisitely quiet finale.
Daniel Breaker as Burr, photo @ Joan Marcus
I obviously never saw the OBC but have seen a widely circulated bootleg video that shows that they were all unicorns who deserve their legendary status. Replacement casts in huge hit shows often become careless, like, hey, we're making $3 mil a week, who cares about the cast? But besides the disappointment from Lexi Lawson and Mandy Gonzalez I felt like this replacement cast is mostly strong. The two main characters Hamilton and Burr are well-cast. Michael Luwoye's Hamilton was incredible -- he quickly got great word of mouth when he played Hamilton on tour. His voice unlike Lin Manuel Miranda's is a strong, resonant baritone. He plays Hamilton as aggressive, ambitious, neurotic -- Burr's advice to "talk less, smile more" is apt. Daniel Breaker (Burr) is very different from Leslie Odom Jr., the originator of the role. In the videos of the OBC and Odom gave Burr a kind of arrogant villainy. Breaker is much more earnest. His Burr doesn't have the charisma of Odom but he does make Burr sympathetic -- as he implores, he just wants to be in the "Room Where It Happens."
Iglheart as Jefferson, photo @ Joan Marcus
James Monroe Igleheart is an odd choice for Lafayette/Jefferson -- the characters are written as smarmy, flamboyant and over-the-top and Igleheart is a good comedian but he's more of a teddy bear and can't really pull off Jefferson's dancing in the Act Two opener. The video clips of the OBC's Daveed Diggs shows him singing Jefferson's opener and dancing up a storm. Igleheart just doesn't have the same mobility. I enjoyed Anthony Lee Medina a lot as Philip, Hamilton's son. Euan Morton was very funny as he daffy, dandy King George III although I heard that the OBC's Brian D'Arcy James and Jonathan Groff were even funnier. Bryan Terrell Clark (Washington) and J Quinton Johnson (Madison) rounded out the Founding Fathers. They were both fine without being really memorable.
After it was all over I contemplated why this musical became such a smash hit. It's not perfect. Besides the issues I already mentioned the choreography by Andy Blankenbeuhler is often way too fussy and frantic, especially for the ensemble. Sometimes I wanted the characters to just
sing
without the interruption of 10 ensemble dancers weaving in and out of the turntable set. The score is great -- full of catchy earworms. But there's many musicals with great scores. And then I realized that all the characters of
Hamilton
are keenly intelligent. The rivalries between Burr and Hamilton, Hamilton and Jefferson, etc. arise not because one side is wrong and the other is right but because
both
sides are right. People like to see smart, likable characters onstage and that's what LMM gave us. He didn't dumb things down. The Compromise of 1790 gets more playtime than the typical love triangle stuff of musicals. Of course LMM slightly tips his hand in favor of Hamilton, as is shown in this lyric that is Hamilton's response to Jefferson:
"Your debts are paid cuz you don't pay for labor, "We plant seeds in the South. We create." Yeah, keep ranting. We know who's really doing the planting"
The other part of its appeal is that
Hamilton
is that it captures a very Obama-esque zeitgeist. The racially diverse cast, the value placed on thoughtful civic debates, leaders who despite personal and political flaws acted for the good of the country -- that's Obama-era thinking that disappeared on November 9, 2016. If Donald Trump saw
Hamilton
I can only imagine his tweet: "Three hours of a musical where no one Wins? And no mention of how immigrants are killing Americans and taking their jobs? Boring, overrated, Sad!" So in 2018 it's more important than ever that a musical like
Hamilton
remains a hot ticket. It's a reminder of the country the Founding Fathers knew we could be, rather than the country we currently are.
I mean watch Lin Manuel Miranda's acceptance speech at the Tony's. Gracious, intelligent, and uplifting. And he created a musical with as much class as himself. That is the appeal of
Hamilton
.