Anna's Day and Night: When More is Less
Netrebko and her pianist Malcolm Martineau
Anna Netrebko is everything a diva should be. She has a voice that is probably unparalleled today for sheer quality and skill. Where other sopranos falter, she breezes -- I saw her Aida where she made that treacherous ascent to the high C in "O patria mia" seem like child's play. Offstage she is larger-than-life, quirky, and makes no attempt to be normal. Her
Instagram page
makes her life seem like a continuous stream of
wacky outfits
,
mouth-watering meals
,
fun sight-seeing
, and of course,
adoring crowds
.
Therefore it wasn't a surprise that her Carnegie Hall debut recital was sold out months in advance, and was accompanied by a breathless
NYTimes profile piece
. Every time she sings it's an Event. There were people who traveled far and long just to hear her for one afternoon.
Her recital was called "Day and Night" with the first half ostensibly devoted to happier "daytime" arias (it included Strauss's
Morgen!
) and the second half devoted to "nighttime" arias. The connection between the songs and the program was very loose however -- why was Debussy's plaintive "Il Pleure dans mon coeur" (Tears Fall From My Heart) a "Day" song when its lyrics contain such cheery sentiments as "Tears fall without cause/In this weakening heart./What! No betrayal?/This grief is without cause." And why was "Gold is a Fine Thing" from
Ballad of Baby Doe
in the "Night" portion?
Basically this recital was a hodgepodge of songs that reflects Netrebko's ability to sing a huge variety of music. And if you wanted to listen to the Netrebko VOICE, that glorious instrument that has its built-in microphone, no register breaks, a blazing top, a rich chest voice, and a thick, luxurious middle, yesterday's recital was the place to be. Even though her recital was filled with a mix of Russian, Italian, English, German and French songs, she sang everything operatically. There was no holding back, no artful scaling down of the voice to create a more intimate environment. She might as well have been singing the Triumphal Scene of
Aida
.
The "Day" portion
Her presentation was operatic as well. In the first half she was dressed in a beautiful white gown with lilac flowers ("Day" I guess). She came out with a bouquet of flowers, which she cradled through the first three songs by Rachmaninoff. The bouquets were then abandoned on the floor for the remainder of the "Day" set, but in the final song of the first half (Leoncavallo's jaunty "Mattinata") she scattered the bouquet and threw it into the audience.
It was great ... until it wasn't great. Somewhere around the middle of the first set I realized that Netrebko for all her prodigious vocal gifts has some limitations that work against her as a recitalist. Her mushy diction is one of them -- it sounds fine when you're occasionally reading surtitles in the opera house, but when given lyric pages to follow along with during a recital her non-existent consonants and dipthonged vowels were a distraction.
Second of all in many of the simpler songs she couldn't or wouldn't set a mood. She was fond of vocal effects and mannerisms -- swelling her voice in a crescendo while raising her arms to the sky, floating a note over the whole auditorium. But they were just vocal effects. I didn't sense much attention to text and meaning. She also faltered in the places where I expected her to shine. "Depuis le jour" was broken up into snatched phrases and so that feeling of a girl's continuous reverie was gone. Strauss's "Morgen!" was just about unrecognizable -- despite the fine violin playing of David Chan Netrebko showed almost none of the tenderness of this exquisite song. For one her voice is now so thick that the delicacy of the melody was lost. But overall she was just singing the notes without much feeling. Her best songs were the upbeat songs, where her naturally vivacious personality was a plus. "Mattinata' was the best -- she twirled around onstage, and was clearly in her element. And Frank Bridge's "Go not, happy day" was a lot of fun even though musically it was probably the slightest work on the program.
She's actually had "Morgen!" in her rep for years -- this video was taken in 2007. Her lack of improvement is discouraging.
As a comparison, here's how this song can sound. Karila Mattila does not have anywhere near the vocal gifts of Netrebko. But listen to how much more feeling she puts into the music:
Netrebko, Johnson-Cano, Martineau
After an intermission she changed into a black gown (get it? Night?) and walked out with mezzo soprano Jennifer Johnson Cano and sang the duet from Tchaikovsky's
Queen of Spades
. Before commencing with the duet she held two balloons and one popped. And I realized another limitation of Netrebko -- despite being a native Russian speaker she has no real feel for Russian music. She programmed no less than 11 Russian-language selections but not a single one of them was particularly memorable. Tchaikovsky in particular calls for inward feeling, and Netrebko is by nature an extrovert. The three songs by Richard Strauss of the second half ("Die Nacht, "Wiegenlied," "Ständchen") I always thought were fool-proof pieces until Netrebko sang them. But again, her voice and mannerisms overwhelm the music. She screamed through "Ständchen." There's no calibration with Netrebko. She starts out 8 cylinders roaring and keeps it that way.
And as might be expected, the best numbers from the "Night" half were also the more upbeat numbers. For instance the "Barcarolle" duet (with Johnson Cano) from
Tales of Hoffman
was not exactly idiomatic, but it was fun. Netrebko had a mask that she put over her face for that number. I also enjoyed "Gold is a Fine Thing," even though I had to take the English text as a matter of faith.
There is one number that gave a hint of what Netrebko might be capable of if she took the time and effort to really
study
and
feel
the music she sings. Dvorak's "Songs My Mother Taught Me" was quiet, heartfelt, moving. It's one song she seems to connect with on a personal level and you could sense it.
Her pianist was the accommodating Malcolm Martineau, who allowed Anna to discreetly peek over his shoulder when she needed to look at sheet music. He also kept the Russian songs at a fast clip -- this was one of the shortest recitals I've attended. This added to the lack of connection between her and the Russian songs. It seemed as if she and Martineau were just rushing through them. Despite a lengthy intermission we were out of there in less than 2 hours.
After a long ambitious program of course the audience was primed for encores. And this is where it got weird -- Netrebko is so generous of a performer, so over the top, that her two encores seemed paltry. The first was the charming "Il Bacio" in which she blew kisses to the audience. Oddly she didn't end the song with the
high D
as she's done in previous occasions. The second was "O mio babbino caro," which she sang with great beauty and flair. And then she was gone. I'm remembering Juan Diego Florez's joyous recital in which he
sang seven encores
and took requests from the audience.
But then again maybe it was good Netrebko left without more encores. This recital business is not really her thing. I can't wait to see her next month in
Adriana Lecouvreur
, where her glamour, charisma, and vocal ease will no doubt make her a magnificent Adriana. She really is too operatic to do the whole piano/art song recital format.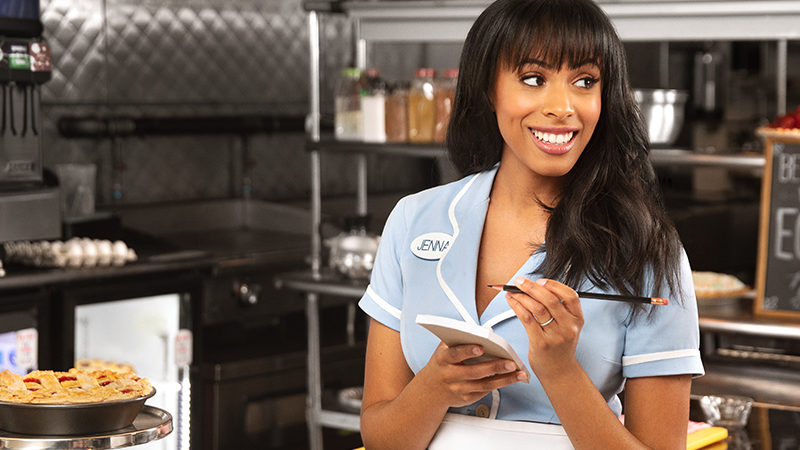 Nicolette Robinson as Jenna
After the concert was over I headed over to
Waitress
because it was the last performance of Nicolette Robinson as Jenna and Alex Wyse as Ogie. This was my fifth trip to the diner as except for Drew Gehling (still a wonderfully dorky Dr. Pomatter) there's been a complete turnover of cast. "Joe" is now "Jo" and played by actress June Squibb. The gender switch worked fairly well although Dakin Matthews remains etched in my mind as Joe.
As far as Jennas go Robinson might be my favorite after Sara Bareilles. Robinson has a magnificent voice and a low-key sense of humor that prevent the evening from turning treacly. Her "What Baking Can Do" had the kind of energy that makes this such a great I Want song with the right singer. Her "She Used to Be Mine" was just astounding singing. Robinson's chaemistry with Gehling was natural and funny. Wyse was a hilarious Ogie -- in many ways even funnier than Christopher Fitzgerald. Wyse was, well, he was weirder. Leanne Klingaman was a cute Dawn, although not as great as Caitlin Houlahan.
The show is in good shape but I was disheartened to see rows of empty seats in the orchestra. I certainly hope the diner can stay open -- there's been major cast turnover and dropping ticket sales. But it's still my favorite comfort food musical. At the end of the evening Sara came out with bouqeuts and a visibly emotional Robinson wiped away tears. Here is the curtain call.