Il Trittico Shows Which Voices Have Staying Power; Netflix's Dogs
50 years at the Met, photo @ Sara Krulwich
At the November 23 opening night of the Met revival of
Il Trittico
there was an onstage celebration of Placido Domingo, who with his role in
Gianni Schicch
i is celebrating 50 years at the Met and his 150th operatic role. I wasn't able to be there for the opening night but did go to the third performance last night.
Domingo was onstage with colleagues decades younger than him. Some had great voices (Stephanie Blythe) and some had very good voices (Amber Wagner's firm, rich soprano as Giorgetta,
George Gagnidze as Michele). And Domingo is not a natural baritone. He's not a natural comic either -- I remember seeing Alessandro Corbelli do this role and he had everyone in stitches. But not a single voice had as much sense of maximizing one's potential as Domingo. When you take away the sentimentality, the audience attachment, what you have is a singer who still has much to offer.
Il Tabarro, photo @ Sara Krulwich
The triple bill was overall a fine evening of music-making with some sore spots. The cast for
Il Tabarro
was excellent. Amber Wagner (Giorgetta) is my new dramatic soprano hope. I heard her as
Senta
and last night just reinforced all these dreams I have of her as Brunnhilde or Elektra. Her voice is huge, her upper register gleaming, her musicality impressive. Her voice almost overwhelms the role of the pathetic, desperate Giorietta. Her acting is generalized and the connection between her and Luigi oddly passionless but my what a voice. Marcelo Alvarez as Luigi sounded better than he has in ... a long time. The voice is smaller in scope and volume but sounds stronger in its core. George Gagnidze's rough-hewn baritone was a good match for Michele. My favorite part of the opera is actually the sweet duet between two anonymous young lovers (Ashley Emerson and Yi Li) that contrasts so painfully with the love triangle of the three principals. Overall however
Il Tabarro
is not an opera I really respond to. Next.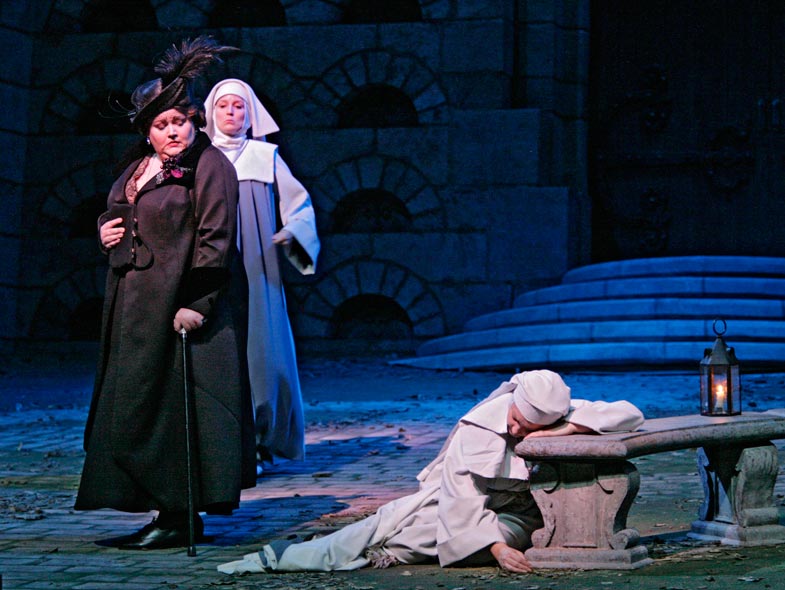 Blythe and Opolais, photo @ Metopera
Suor Angelica
on the other hand is one of those operas where even a halfway decent assumption of the title role can have me in tears. Kristine Opolais is an amazing, committed actress. I was sitting fairly close (row K of the orchestra) and could see how much her
acting
responds to the music -- from "Senza mamma" to the finale her eyes expressed pain, anguish, and hope. Alas her voice cannot take the audience with her on this emotional ride. Her always wiry soprano is now in tatters. The notes are still there, but the sound is hollow, sour, and she has a bad wobble. Her lack of breath control meant she had to cut phrases short and couldn't ride the crests of Puccini's music. At this point her voice is only acceptable in comprimario parts. And she only made her major debut about 10 years ago.
Opolais's wrecked voice was a painful contrast to Stephanie Blythe's Principessa. Blythe's voice is a miracle. She's a real contralto with that kind of earthy, cavernous chest register that is always a thrill to hear. Her acting is also nuanced for such a brief role -- it's easy to make Principessa an irredeemable monster but Blythe's monologue was subtle enough to convey the fact that Principessa is one of those people who confuses moral rigidity with godliness. The various nuns were all very well-sung. But a
Suor Angelica
without a good Angelica is a non-starter.
Domingo as the wily Gianni Schicchi, photo @ Sara Krulwich
Suor Angelica
is so emotionally devastating that I always have a hard time getting into
Gianni Schicchi
. Nevertheless there was some very fine singing in the final opera of the evening. Domingo as I mentioned is not a natural comic and not a real baritone, but he made the role work for him. Stephanie Blythe was a hoot as Zita and a shameless scene-stealer. I spent most of the time watching what she did with the handkerchief. She turned a small role into a star turn. Comedy is definitely her thing -- last year in
Cendrillon
she was also a shameless scene stealer.
Atalla Ayan (Rinuccio) had a sweet, ringing tenor and (this is tricky) a nebbish enough stage persona for us to believe that this was a young man just waiting around for his inheritance. Maurizio Muraro (Simone) is always a joy to hear. I also enjoyed the officious notary of Philip Cokorinos.
Gianni Schicchi's
most famous tune is of course Lauretta's "O mio babbino caro" which in the context of the opera is a manipulative, bratty plea from a spoiled daughter rather than the perpetual lyric soprano audition and/or encore standby. Kristina Mktitaryan has a pert, pleasant voice and looks cute. She was also a winner of Domingo's Operalia competition last year. But she hasn't a clue about what to do with this music. She sang the aria as if she was embarrassed of it. No sense of how to shape the phrases to highlight the beauty of this brief but enchanting melody. Bertrand de Billy's fast, rubato-less conducting did not help.
I mean, compare these two renditions. Scotto's voice by 1981 was unsteady and often wiry and harsh. But look at how much she lives and breathes this music.
Jack O'Brien's production has its charms. Maybe the best is
Gianni Schicchi
. The opera is updated from Dante Alghieri's era to 1959, and has a cinematic appeal.
Suor Angelica
is the worst -- the convent is more of a palace, and the overstuffed production threatens to overwhelm the simple, from-the-heart-to-the-heart libretto and music. The overly detailed sets that meant the evening ran for over four hours. Perhaps to compensate Bertrand de Billy kept things at an extremely fast clip. The audience was shockingly out of step with the music -- they kept laughing during
Il Tabarro
and
Suor Angelica
, and then in
Gianni Schicchi
stayed oddly silent during many of the opera's funniest bits. The worst was when they cut off the final phrase of "O mio babbino caro" with premature applause before de Billy picked up the baton again and let poor Mktitaryan finish her aria. Maybe in this day and age the raw emotional melodrama of
Il Tabarro
and
Suor Angelica
simply make people uncomfortable.
At the end of the evening Domingo received a well-deserved standing ovation. He's outlasted nearly all his contemporary colleagues. For a voice that even in its prime was problematic (not much of an upper register, lack of the squillo that many opera fans crave, a Jack-of-all-trades-master-of-none approach to his roles) it was awe-inspiring to see a singer with a voice still so well-projected, a stage persona that had so much gravitas and likability, to realize that Domingo has
earned
all the accolades he's received not because of sheer talent but because of determination, grit, and hard work.
Zeus
In other news, I highly recommend people watch the Netflix series
Dogs
.
Dogs
is not just for canine lovers (although it helps if you are, and really, who isn't?). This six-episode series follows dogs around the world, and of course each dog is absolutely adorable. But the must-see episode of Dogs is the second episode entitled
Bravo, Zeus
. Zeus is a majestic looking Siberian husky who nonetheless is a very typical dog: he can "sing" on command and enjoys playing with children. His owner Ayham had to flee war-torn Syria and left his beloved pet behind. The documentary follows Ayham's attempts to rescue Zeus out of Syria. I don't think I'm giving much away by saying there's a tearful reunion between Zeus and Ayham that will activate countless tear ducts.
The real heartbreaker of the episode is the people
Zeus
left behind. Zeus is staying with Ayham's best friend Amer in Damascus, and the love between Amer and Zeus is beautiful to watch. Amer says that Zeus is a great source of comfort to him but admits that "this isn't the right place for Zeus" as Zeus is frightened by the constant bullets and gunfire. In Damascus Zeus is also a beloved neighborhood fixture. Children play with him. Some play ball with him but one girl simply snuggles with him. He's obviously a source of therapy for a traumatized, warn-torn people. As Zeus happily plays in a dog park in Germany with Ayham at the end of the film one thinks of how Zeus's neighborhood children are suffering as yet another loving figure has left. The cliffhanger of the movie is whether Amer is successful in leaving Syria.
Although this film focuses on Zeus it's also a quietly powerful indictment of the callous attitude and prejudice people around the world think is acceptable when talking about refugees. This film will up-end everything you thought you knew about refugees. Overall you will be amazed at the resilience of people who have risked everything just for a chance to start all over again in another country.