Adria-anna Lecouvtrebko
Anna Netrebko, Piotr Beczala, and Anita Rachvelishvili, photo @ Ken Howard
In 1937 the legendary soprano Rosa Ponselle was losing her upper register. She had stage fright and also wanted to act in movies. She asked Met general manager Edward Johnson to mount a new production of Cilea's
Adriana Lecouvreur
for her. Johnson refused. Ponselle never sang in staged opera again. She was barely 40.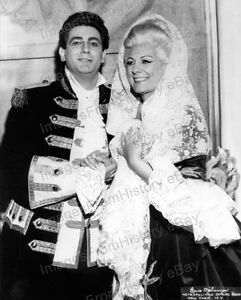 Tebaldi as Adriana with a young Domingo
In 1963, beloved Met diva Renata Tebaldi was also dealing with a receding upper register, and demanded that Rudolf Bing stage
Adriana Lecouvreur
for her. Bing reluctantly agreed. Tebaldi sang six performances before vocal troubles overwhelmed her and she canceled the rest of the run. In Bing's memoir he recalled the incident with such bitterness you would have thought Tebaldi had personally murdered Bing's beloved dachshund with poisoned violets.
Therefore the new production of
Adriana Lecouvreur
that was mounted for Met superdiva Anna Netrebko breaks a sort of curse. Netrebko is not singing
Adriana
because she is losing her upper register. This is not the desperate demand of a soprano with rapidly disappearing high notes. Netrebko's
Adriana
is a symbol of her power -- in Peter Gelb's Met, what Anna wants, Anna gets.
The good news is that this not-exactly-great but super-enjoyable opera is finally given the all-star treatment it demands. My only previous live experience with this opera was a
2011 Carnegie Hall
concert starring Angela Gheorghiu, Jonas Kaufmann, Anita Rachvelishvili, and Ambroglio Maestri. I still have fond memories of this well-sung, well-acted concert. And as it happens, half the cast (Rachvelishvili and Maestri) have found their way to the Met's new production. Yay.
Floral poisoning was never so glam, photo @ Ken Howard
I caught the second performance and thoroughly enjoyed every minute of it, even if the emotions in this opera never run deeper than, say, one of those MGM costume dramas. In fact while I was watching the opera I was thinking that this totally would have been an Irving Thalberg project with Norma Shearer as Adrienne Lecouvreur, Laurence Olivier or Charles Boyer as Maurice de Saxe, Hedy Lamarr as the Princess of Bouillon, and maybe Frank Morgan as Michonnet? Cilea's melodies are tuneful but don't worry about missing them, because they're repeated at least 10 more times before the act is over. Cilea is totally Andrew Lloyd Webber's brother from another mother (and generation).
The cast that was assembled was probably the best possible cast in today's operatic scene. Anna Netrebko is
temperamentally
a perfect fit for Adriana -- she's glamorous, haughty, larger than life. She's a Diva with a capital D, and has the charisma to command the stage much the way Adriana the actress is supposed to do. She also looked fetching in her many different costumes, although the last act wig resembled a mullet.
Vocally the role was a surprisingly mixed-to-poor pairing with Anna's current vocal estate. The reason this role appealed to Tebaldi and Ponselle was its lack of exposed high notes. Anna's upper register is probably the most free, impressive part of her voice. When she unleashes a high note into the auditorium the voice gleams and glows.
Alas, much of
Adriana
lies in what is the least attractive and controlled part of Netrebko's voice -- her lower middle register, which is now thick and somewhat matronly sounding. In that part of her voice she struggles with intonation and enunciation. She also has a loosened vibrato that veers dangerously close to a wobble. I noticed something similar in her
Carnegie Hall recital
-- in the simpler songs with very central tessitura, were where the loosened vibrato and sagging pitch were most noticeable. Adriana's opening aria "Io son l'umile ancella" was marred by poor intonation, lack of consonants, and a tone that was surprisingly raspy.
Another quirk about Netrebko is that spoken declamation is really not her thing. She sounds like she's reciting the words phonetically. This Phèdre's monologue which is usually the moment opera fans live for was surprisingly unremarkable. She certainly has the notes, but the monologue doesn't come to life until she starts to sing. You can see it in her face too. Look at the way her body language blazes at 1:42 when she's back in her comfort zone of unleashing her tidal wave voice.
How much better her voice sounds in the extreme ends -- her resonant, powerful chest register, and her brilliant, secure upper register -- can be heard in the Act 2 duet "Ma dunque è vero." The sheer gorgeousness of the B-flat is a shock compared to "Io son l'umile ancella." This is where Netrebko's voice really lives and breathes. It's glorious. Unfortunately Cilea's music allows few ascents into that upper register.
With that being said, the overall excellence of Netrebko's portrayal overrides these quibbles. Part of this was the electric chemistry she shared with Rachvelishvili (read more below). Her acting was generalized, but in a way perfect for the role -- exactly like an MGM costume drama heroine. And as I said, she has the larger-than-life charisma to pull this off. She expectedly wrung all the drama out of "Poveri fiori" and her extended death scene and sang with a subtlety that isn't always there with this artist. And I never fail to marvel at the control she has over her voice -- she expired while floating a
piano
note over the entire auditorium.
Rachvelishvili rocks, photo @ Ken Howard
One of the perks of being a Superdiva is Netrebko has the power to demand a cast that matches her in quality. Anita Rachvelishvili as the Princess of Bouillon was already impressive more than 8 years ago, when I wrote : "Anita Rachvelishvili as the jealous, murderous Principessa has one of those huge, throaty, cavernous Russian* voices that makes opera fans wild, and critics fret. It's a big, undisciplined voice and she's apparently very young (not even 30). Definitely a name to watch." *(correction: I later on found out she was Georgian).
Catfight! Photo @ Ken Howard
Today Rachvelishvili is a complete artist, and just as
her Amneris threatened to steal the show from Anna's Aida
, her Princess dialed the energy from a 0 to 60 from her very first note. Her voice is one of those dark, rich columns of sound. Her temperament is so fierce without ever veering into camp. She might be a murderous and spiteful villainess but she sings with so much heart and conviction that one can only think "I want to be loved as much as the Princess loves Maurizio."
Rachvelishvili and Netrebko also have the most explosive stage chemistry I've ever witnessed on an operatic stage. These two ladies light a fire under each others' souls (and vocal cords). When they are singing together you can hear the crackle and pop of two divas determined to outshine the other. It's like Lebron vs. Steph Curry. It is quite simply magic. One is reminded of Rudolf Nureyev when he spoke of his partnership with Margot Fonteyn: "It's not her, or me, it's us." I'm just running through a list of operas I'd love to see them do together --
Don Carlo
? Their Elisabeth vs. Eboli would be epic.
Lohengrin
?
La Gioconda
? One can dream ...
This clip gives us only a small idea of how electric Anita and Anna are together:
Beczala as Maurizio, international man of mystery, photo @ Ken Howard
Piotr Beczala as Maurizio, International Man of Mystery and High-End Gigolo (but don't worry, he's doing it all for his country, or ... something) gave his usual excellent, elegant performance. The
only
thing I missed was the kind of full-throated, hot-blooded vocalism of, say, Franco Corelli. But that is not Beczala's style, and one has to admire the way he refuses to push his voice and also his consistency. His final scene with Adriana was beautifully calibrated. Hard to believe this tenor just celebrated his 52nd birthday.
As for his portrayal, Beczala is too inherently sunny to really play up the 007 aspect of Maurizio's character. But his sweetness is part of his charm. He also looked great in the French baroque costumes. He and Anna have sung together very often (six collaborations just at the Met) and their comfort with each other onstage was obvious. Now can we dream of a
La Gioconda
with Anna as Gioconda, Beczala as Enzo, and Rachvelishvili as Laura?
As an interesting sidenote, the real
Maurice de Saxe had a quite fascinating life
. He was one of 354 illegitimate children from the same father. He may have loved Adrienne Lecouvreur but he sure didn't spend the rest of his pining for her memory. He took up with an 18 year old lady in the last years of his life and had several illegitimate children with several different women.
Maestri as Michonnet, photo @ Ken Howard
The supporting cast was very fine. Ambroglio Maestri's (Michonnet) comfort with the Italian language and natural stage warmth were very welcome in a role that really amounts to little more than "Adriana's adoring gay stage director." (The fact that Michonnet's devotion towards Adriana is spelled out as platonic more than once drives home that vibe.) Maestri's voice is fairly round and without the snarl that so many baritones these days go for. Carlo Bosi as the Abbe almost stole every scene he was in -- his thin, reedy tenor was perfect for the role. Veteran bass Maurizio Muraro was luxury casting as the Princess's cuckolded husband.
Gianandrea Noseda led a fast, disciplined performance. A more diva-centered conductor like Marco Armiliato probably would have let the singers wallow more in the sappy Cilea melodies. Noseda let them wallow for a minute or two, but then moved on. We got out 15 minutes ahead of the stated curtain time. I also appreciated how he emphasized the delicate, almost impressionistic parts of the score, like the Judgment of Paris ballet.
David McVicar's production is well-traveled -- the Met is sharing the production with both the Royal Opera and Vienna State Opera. In fact there is already a
commercial DVD of this production
-- from London, with Gheorghiu and Kaufmann. (I highly recommend that video. It's wonderful.) McVicar's is a colorful, traditional production that fits the opera well -- as I said, this is not an opera to go all r
egietheatre
. Charles Edwards' big unit set is a stage, and most of the action takes place "backstage" which is really the area before the lip of the curtain. The biggest payoff for this setup is the Act Three Judgment of Paris ballet and Adriana's Phèdre monologue that take place "onstage" with an audience watching.
Judgment of Paris ballet
Now, shoot me because I'm not embarrassed to admit I loved the Judgment of Paris ballet scene (choreographed by Andrew George). Was it great choreography? No. Was it cheesy? Yes. But as a big balletomane I really loved the caricature of baroque-era ballet. The dancers really made the most of it too, especially Kfir Daniel's delightfully pulchritudinous Paris. I was also relieved that none of the dancers wore pointe shoes, as during Adriana's time pointe work was not yet a part of the ballet vocabulary.
The only awkward part of this production is the fact that for much of Act 1 and 4, the stage is sort of just there eating up space and not being put to much use. Oh well. This is not a production I can complain about. It suits the opera well.
So overall, a very enjoyable evening at the opera with an excellent cast and production. It's really Grand Opera in the best way. And I'll just leave you with these clips because if you don't love them, then you don't love
Adriana
.