La Scala 2020 Gala Promises to "See Stars Again"
Italy was one of the first regions hard-hit by the worldwide Covid pandemic. It beat back the virus by late spring only to have covid roaring back in Europe's deadly second wave. As a result, plans for a new Lucia di Lammermoor were jettisoned and La Scala's traditional December 7 opening was changed to a semi-staged concert gala. Organizers called the show "A riveder le stelle" ("to see the stars again") in reference to the final phrase in Dante Alighieri's "Inferno." The gala was performed without an audience.
All operatic galas end up being alike -- they are overlong, the singers are variable in quality, and they rely too much on overdone warhorses. There was also a last minute cancellation (Jonas Kaufmann canceled and Piotr Beczala was flown in.) Conductors usually take a backseat to the singers and this was no exception -- Riccardo Chailly followed his singers' lead and let them do their own thing. I knew there were too many warhorses programmed when the first number was an orchestral rendition of the prelude to Rigoletto and there were 11 Verdi and 5 Puccini excerpts. Good lord.
The semi-staged format of this gala didn't work for all numbers. For instance, three excerpts from Don Carlo (Ildar Abdrazakov sang Philip's aria, Ludovic Tezier sang "Per me giunto" and Elina Garanča sang "O don fatale") were sung on a luxury train car. Why? Plácido Domingo sang "Nemico della patria" as a backdrop projected various human rights icons like Gandhi and Eleanor Roosevelt. Huh? That is a total misread of the aria -- would these human rights icons have sang "Io d'odio ho colmo il core" (My heart is full of hate)?
Other staged ideas worked well. Sonya Yoncheva sang "La mamma morta" against a backdrop that evoked the French Revolution. There was a French flag, fallen soldiers amid a battlefield. Carlo Álvarez started Iago's "Credo" by shaking a hypothetical U.S. president's hand at the lectern. He then sang the aria while a hollowed, crumbling White House burned. Heh. Marina Rebeka's "Un bel di" had a backdrop of Japanese-style watercolor paintings. I saw a ship and cherry blossoms. Lovely. Piotr Beczala sang that worldwide tenor anthem "Nessun dorma" with projections of the cosmos in the background.
The test of a singer in galas is if they can make warhorses that we've heard 1,000 times and counting memorable. The concert was so long that not everyone made an equal impression. Here are some of the strongest impressions (for better or for worse):
A few sour notes: The vaguely-80, indefatigable Plácido Domingo's singing "Nemico della patria" now only show the "beaux restes" of his voice. He understands the verismo style, the musicality is still there, but the voice is not. Kristine Opolais's voice is beyond the beaux restes stage -- she screamed through Butterfly's farewell to her son. Francesco Meli is a fine tenor but his voice simply doesn't have enough beauty for Gustavo's aria "Ma se m'è forza perderti."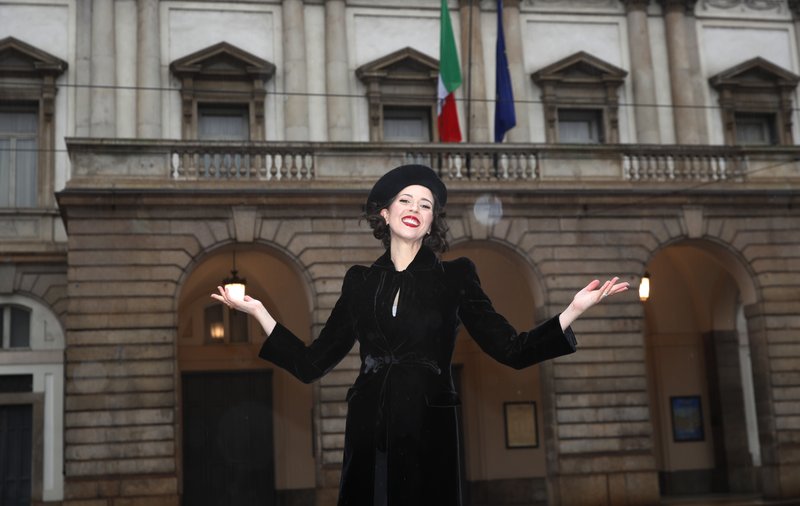 Donizetti had a big night: three of the most memorable selections were Donizetti warhorses. Lisette Oropesa's "Regnava del silenzio" certainly stood out. Oropesa was supposed to have opened the season with the brand new
Lucia di Lammermoor
. Her aria was sung in the original key instead of the "traditional" lowered key, and without the usual performance cuts. Oropesa is one of the most skilled bel canto singers of this generation. Her voice works with clocklike precision over the tricky roulades. Her trill is lovely. Her timbre has an intriguing, pulsating vibrato. Brava.
Juan Diego Flórez sang "Una furtiva lagrima" with the same beautiful legato and overall excellence that we've come to expect from the Peruvian tenor. It's hard to believe but Flórez made his debut at La Scala in 1996. The preservation of his voice is remarkable. The Fellini-esque background for this aria worked well. Another delight was Rosa Feola singing Norina's aria "So anch'io la virtù magica." Feola's voice is pretty, her presentation feisty and charming. All of a sudden I need to see her in a complete
Don Pasquale.
Other numbers I enjoyed: all the Don Carlo excerpts. Ildar Abdrazakov's "Ella giamai m'amo," Ludovic Tezier's "Per me giunto," Elina Garanča's cool, smooth voice sailing through "O don fatale." She doesn't have the chest voice of many of the classic Ebolis but my she can sing! Can't wait to see her tackle the role at the Met in the 2021-22 season. Marina Rebeka might be too tall and stately to be a believable Cio Cio San in the house but she sang "Un bel dì" with a warm middle voice and unexpected delicacy. Aleksandra Kurzak chose the foolproof "Signore Ascolta" and sounded great. Then again, has anyone ever failed at Liu's arias? Eleanora Buratto sang a strong, heartfelt "Morrò, ma prima grazia" and George Petean also sounded wonderful in "Eri tu."
Marianne Crebasssa's Habanera was free of many of the va-va-voom mannerisms that often mar this aria. She also looked stunning in her red dress. French tenor Benjamin Bernheim's "Pourquoi me réveiller" was brooding and expressive, and the background of gloomy statues and an even gloomier candelabra was one of the better "staged" bits.
The final number two numbers were Piotr Beczala in a decent rendition of "Nessun dorma" and the magnificent ending from Guillaume Tell. It was inexplicably sung in Italian. Despite the odd linguistic choice the singers (Eleonora Buratto, Rosa Feola, Marianne Crebassa, Juan Diego Flórez, Luca Salsi, Carlos Álvarez, Mirco Palazzi) sounded great and the music was as magical as ever.
The dance numbers were a mixed bag. Two La Scala dancers chugged through Rudolf Nureyev's version of the Nutcracker grand pas de deux. The dancers were fine but Nureyev's choreography is astoundingly unmusical and ugly. Roberto Bolle danced a solo called "Waves." He's smoking hot, but the solo was not. The "Verdi Suite" ballet music excerpts had weak choreography. Jerome Robbins' Four Seasons used the same music to much stronger effect. Here is Nureyev's choreography. Watch if you dare:
The gala was sung without an audience, the orchestra and chorus wore masks and were socially distanced. It was a reminder of the grim toll of the pandemic on the arts. It was odd to hear crowd-pleasers like "Nessun dorma" without the usual applause. But the overall spirit of the gala was of strength and resilience. Vaccines are on their way, there's light at the end of the tunnel, and Italy is not Italy without singing.