West Side Story Movie Remake Hits All the Right Notes
I went to see the new
West Side Story
film this afternoon. Overall, I thought it was a really beautiful film that in some ways improved upon the 1961 classic. Director Steven Spielberg and writer Tony Kushner managed to make a film that is both a homage to the original and a reimagining with a new script that tries to flesh out the characters more than Arthur Laurents' original book. For instance, in the remake, Tony has just gotten paroled after a year in prison for pummeling a rival gang member. This backstory makes Tony's violence at the climax of the musical more believable.Also, the Sharks and Maria/Anita/Bernardo speak Spanish to each other which makes more sense since they all just arrived from Puerto Rico.
The big drawback was one I expected: Justin Peck is talented but he's not Jerome Robbins, and his choreography for the film is pleasant and looks a lot like Robbins' in places (the snaps are included), but doesn't take over and grab your attention the way Robbins' choreography does. As a result, the big dance sequences don't pop the way the 1961 film does. Robbins' dance sequences are so iconic that the 1961 West Side Story is sometimes more a dance symphony than movie-musical. The same numbers ("Prologue," "Gym," "America") come across as filler with Justin Peck.
The plusses: the cinematography is amazing. Spielberg mixes a very stylized, romanticized aesthetic with gritty realism. The panoramas of 1950s New York with the vintage cars and subways switches to the footage of the upper west side being demolished for Lincoln Center. The gang fights between the Jets and Sharks draw more blood and are more vicious than the 1961 film. The costumes by Paul Tazewell are stunning and probably will win an Academy Award.
Bernstein's score sounds gorgeous -- Gustavo Dudamel conducted the New York Philharmonic and Los Angeles Philharmonic in a very classical, almost operatic style. The lushness of the orchestration stands out. All the actors do their own singing, so there's none of the awkward dubbing that marred the 1961 film.
Tony Kushner's script is actually less of a rewrite than I expected -- he does do a few rewrites (Doc is now Valentina, played by Rita Moreno) but overall, both Spielberg and Kushner trust the material enough to simply let it be. They know not to reinvent the wheel. The big musical numbers are allowed to stand on their own with a minimum of fuss -- thus, Maria and Tony still lock eyes across the gym, Tony still rhapsodizes about "Maria" while walking the streets of New York, Tony and Maria still sing "Tonight" on a fire escape.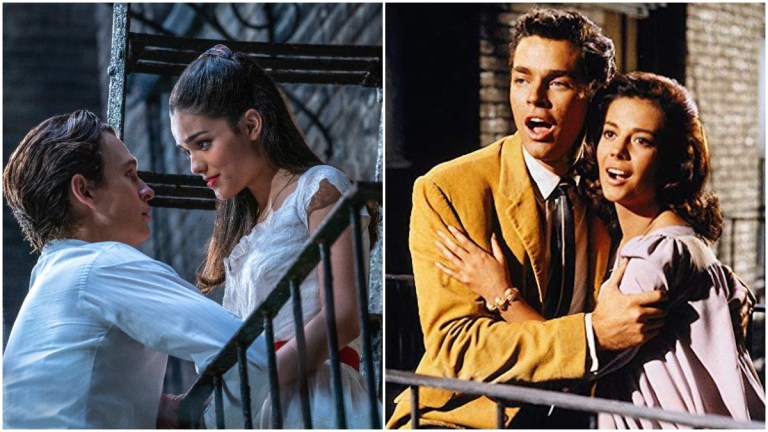 The BIG plusses over the 1961 film: Rachel Zegler (Maria) and Ansel Elgort (Tony) have way more chemistry than Natalie Wood and Richard Beymer and I say this as a huge Natalie Wood fan. But Beymer and Wood had absolutely no spark together (they actually disliked each other a lot while filming). Zegler and Elgort give you that heady feeling of falling in love for the first time. Zegler's voice is beautiful -- she sings in a very classical musical theater style that suits Bernstein's score. Elgort's voice is okay, but just okay. But he looks cute and acts well.
I didn't think David Alvarez (Bernardo) and Ariana DeBose (Anita) were quite as strong as the legendary performances of Rita Moreno and George Chakiris but they were very good. DeBose was fiery and earthy as Anita. Anita and Bernardo in this film have a very sensual relationship that makes it believable that these people really love each other. David Alvarez also was loving enough to Maria to make the tragedy more poignant.
Rita Moreno looks amazing in her Kushner-created role of Valentina (in this movie she runs Doc's drug store and acts as a surrogate mother to Tony). I appreciated having her in the film, and I liked the relationship between Valentina and Tony. However, I have to admit that the one change that really did not work in this movie was having Moreno sing "Somewhere." For one, it takes away from the musical theater structure. Tony sings his "I Want" song "Something's Coming" early in the musical. He doesn't know exactly what he wants, but he knows it's going to change his life. Having Tony and Maria sing "Somewhere" closes that loop -- Tony now knows what he wants, but he doesn't know how it's possible considering he's a wanted fugitive. There was a parallelism between "Something" and "Somewhere" that no longer exists.
So not everything works in this
West Side Story
. But not everything worked in the 1961 film either. What comes across very strongly is the love and care with which Steven Spielberg treats the material. This is such a contrast to the misguided
Ivo van Hove revival
. This movie remake is squarely for people who adore
West Side Story
. Go see it if you love the musical.