Favorite Things of 2021
Welp, things have shut down again. NYCB's
Nutcracker
and a slew
Broadway shows
have had to cancel for days or weeks. The Broadway musical
Jagged Little Pill
, decided to
permanently shutter the show
.
So with that in mind, a year-end best-of list is in order. Keep in mind that this year, I'm choosing from a much smaller pool of performances because I only started attending live shows in September. Nevertheless, I saw a lot of good stuff.
Favorite Operatic Performance: Fire Shut Up in My Bones by Terence Blanchard (Metropolitan Opera)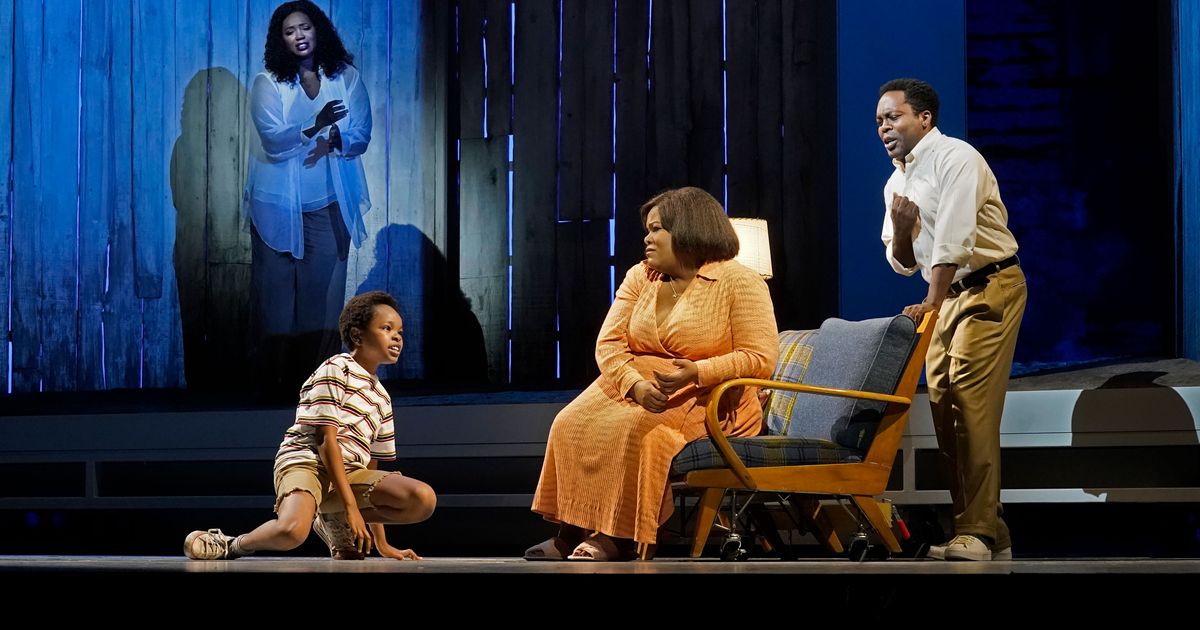 No, it wasn't perfect. The libretto could be mind-numbingly repetitive, the three different roles for Angel Blue always seemed abstract and impersonal, and the second act was weak. But Terence Blanchard's
Fire Shut Up in My Bones
was still a powerful, ground-breaking opera. It was the first opera presented at the Met written by a black composer. The music was strong enough to stand on its own merits. It was contemporary opera that was melodic, tonal, and heartfelt. Judging from the sold-out crowds, this is an opera that will last in the repertoire.
Runner-Up: L'Orfeo by Luigi Rossi (Julliard Opera)
Luigi Rossi's adaptation of the timeless Orpheus myth doesn't have the popularity of Gluck or Monteverdi's versions. I could kind of see why -- there are too many characters, and the plot has so many side stories that Orfeo and Euridice often seem like supporting characters. It lacks the straightforward, heartrending focus of Gluck's work. But the intimate (if heavily cut -- the original production ran six hours!) performance by Julliard Opera made a great case for Rossi's work -- it was moving, funny, and full of beautiful melodies.
Favorite Streamed Opera: Parsifal, from the Vienna State Opera
In April 2021, the Vienna State Opera streamed a new production of Parsifal to an empty house. It ended up being a dream cast: Jonas Kaufmann (Parsifal), Elina Garanča (Kundry), Ludovic Tezier (Amfortas) and Georg Zeppenfeld (Gurnemanz) were all pitch-perfect. Garanča's Kundry in particular was a revelation -- seductive, chilling, and tortured. The new production by Kiril Serebrennikov was personal and deeply moving -- Serebrennikov is a vocal opponent of Vladimir Putin, and was arrested and convicted of fraud. He makes the Knights of the Holy Grail political prisoners, and the ending has all the knights freed from prison. It was incredibly uplifting and transcendent.
Favorite Broadway: Company, by Stephen Sondheim
Marianne Elliot's gender-flipped
Company
was the last production supervised by Stephen Sondheim before his passing on November 26. It does the late, great composer proud -- not everything works in this gender-flipped
Company
, but the wit of Sondheim's score and George Furth's book shines through. "Getting Married Today" and "Ladies Who Lunch" justifiably brought down the house. Patti Lupone's impressive 72-year-old pipes are worth the price of admission alone. I don't actually recall the last time I laughed so much during a Broadway musical -- this show is just
funny
.
Runner-Up: Moulin Rouge
Finally saw this. Yeah, I know it wasn't a great musical. They cram way too many pop-music mashups that it's hard to concentrate (their standalone songs like "Roxanne" and "Your Song" were by far the audience favorites), the book is rather insipid, and the Satine I saw (Ashley Loren) didn't capture any of Nicole Kidman's fragility. But goddammit it was fun! The sets were amazing, the dancing was entertaining, I was never bored, and Aaron Tveit (Christian) is that rare male musical theater star who can really SING. I don't want to think how many times I've replayed his rendition of Elton John's "Your Song."
Favorite Revisit: Waitress
Sugar. Butter. Flour. Those were the words I heard as I entered the theater for the first time since March 2020.
Waitress
had always been the ultimate comfort food, much like a slice of delicious pie. I had all the lines memorized, I've visited the diner six times since the show opened. Sara Bareilles' Jenna was as warm and likable as I remembered. I cried during "She Used to Be Mine." It was also great to see so much of Waitress's ensemble cast, from Dakin Matthews as Joe to Christopher Fitzgerald as Ogie. Tonight I got the sad news that
Waitress
closed early
due to an outbreak of covid. Was even more grateful that I had made a return trip to the diner.
Favorite Book: The Family Roe by Joshua Prager
A beautifully written, timely book about the various characters in maybe THE most famous, divisive court case of all time --
Roe v Wade
. Prager deep-dives into the tumultuous life of "Jane Roe" -- an alcoholic, drug-addicted grifter named Norma McCorvey. McCorvey comes across as a singularly unsympathetic character. She was manipulative, deceitful, irresponsible, greedy, and cruel. Yet she's a reminder that human rights need to exist not just for sympathetic people, but for the rotten eggs as well. Prager not only covers Norma, but the lawyers (both sides) in the case, the anti-abortion activists Norma eventually took up with, and the three children Norma abandoned at birth. Ironically, Norma's atrocious personal behavior underscores the need for abortion rights -- no child deserved to have Norma as a mother.
Skylar Brandt's Giselle was one of those instant-classic moments -- even though this is only her third performance (!!!) of the role, she so mastered both the technical AND artistic challenges of the role that she jumped to my short-list of truly memorable Giselles. (For a point of reference, Alina Cojocaru, Natalia Osipova, Diana Vishneva, and Sarah Lane are my other favorite Giselles.)
Brandt's tiny frame and wide-eyed expression belie a formidable technique -- I've never seen anyone sail across the stage with such ease in the Act 1 Giselle variation. The whole evening was just a triumph. Herman Cornejo (Albrecht) has lost some of his bravura technique but partnered Brandt beautifully.
Runner Up: Martha Graham Dance Company's Appalachian Spring
Appalachian Spring
live. Until this year. Martha Graham Dance Company's excellent residence at the Joyce Theater made this timeless dance live again. It's such an optimistic, open-throated endorsement of the American frontier spirit that you can't help but be moved -- I remember thinking "I wish I could love America as much as these people love America." The dancing was incredible. Lloyd Wright's direction-changing jumps channeled Merce Cunningham, the originator of the role. Martha Graham's dances have proven to be surprisingly resilient -- they get better upon rewatch.
Another Runner-Up: Return of NYCB's Nutcracker
Nutcracker
(this year they're slightly older due to vaccination requirements), the growing tree, the whirlwind snowflakes, and the Sugarplum Fairy's pink dress made me feel that all's right with the world. Before
Nutcracker
had to unfortunately shut down I saw four performances and they were all great.
The performance on December 14 with Emilie Gerrity and Chun-Wai Chan (formerly of Houston Ballet) had personal meaning for me because in all the years I've seen this Nutcracker, this was the first time I saw someone Chinese as a lead. It wasn't just representation that made the performace special -- Gerrity and Chan were heartmeltingly beautiful. Gerrity is one of NYCB's most graceful, delicate ballerinas and Chan partnered her so gallantly. I sense the beginning of a beautiful partnership.
Favorite Personal Milestone: finally braved the six-hour Die Meistersinger!
Die Meistersinger
live but couldn't get over the six-hour hump. Well, this was the year I finally managed to see
Die Meistersinger
live. And surprisingly, the six hours flew by. This opera works so much better live than on radio -- the humor of Wagner's libretto, as well as the richness of his orchestration and chorus are all things that don't register if you listen at home. Otto Schenk's production was quaint and appealing.
The performance I attended had plenty of standout performances, in particular Michael Volle as Sachs and Martin Kränzle as Beckmesser.
Favorite Surprise: Steven Spielberg's West Side Story
West Side Story
. It's not a radical recontruction at all.
It was in many ways superior to the 1961 film -- the characters had more depth, the lead actors could actually sing, and the chemistry between Rachel Zegler and Ansel Elgort was a stark contrast to the anti-chemistry between Natalie Wood and Richard Beymer. I did miss Robbins' choreography but Justin Peck's dances were appealing in their own way. The score (conducted by Gustavo Dudamel) sounded as gorgeous as it ever has.