COVIDammerung -- The End of the World in Met Streams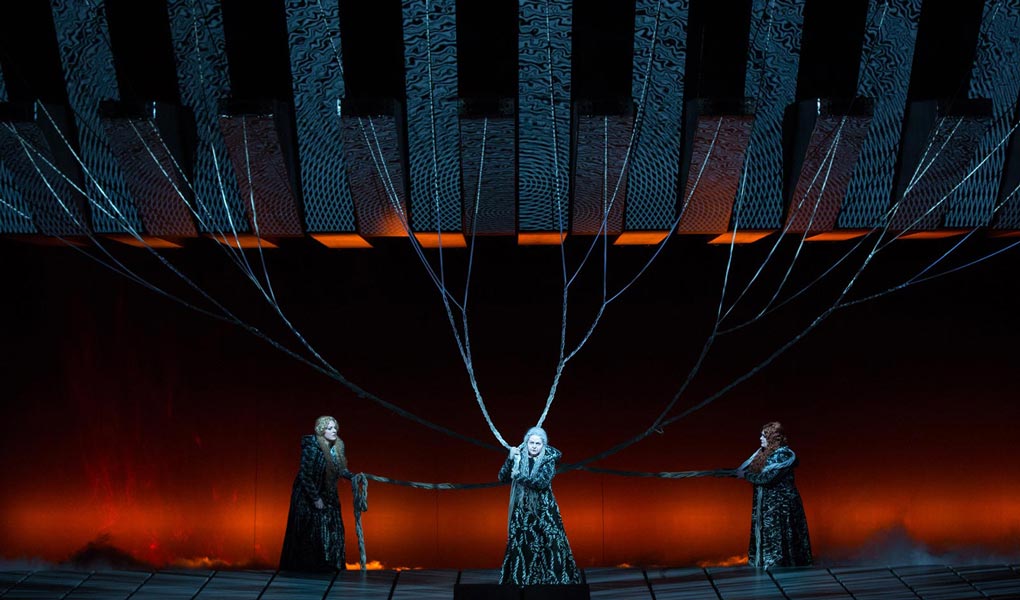 The Norns say it's the end of the world!
The nightly Met streams continue this week. Someone behind the dial at the Met must have a dark sense of humor -- for the first week of streaming they included
La Boheme
and
La Traviata
, two operas where the heroine dies of a specific infectious respiratory illness that was often acquired by lack of social distancing. This week they are doing an all-Wagner week which happens to include ... wait for it ...
Götteradamerung
.
So try to forget the fact that the Met season has been
canceled
! Try to forget that everyone in NY and NJ is essentially
locked in our houses
! At the Met website we can watch the End of the World! Without further ado, here are some of my totally irrelevant musings on the Met HD offerings this week. Either way, these Wagner operas are great cleaning routines. You can disinfect your residence three times over BEFORE the first intermission:
Stemme and Skelton
Monday, March 23 Wagner's Tristan und Isolde Starring Nina Stemme, Ekaterina Gubanova, Stuart Skelton, Evgeny Nikitin, and René Pape, conducted by Simon Rattle. From October 8, 2016.
All long Wagner operas are not equally long.
Tristan und Isolde
clocks in at around under four hours but it might be the longest Wagner opera to sit through because after a dense, action-packed first act the pace of the opera slows down considerably in the second and third acts. For the second and third acts to work you really need THE BEST singers in the world. Not just good singers. THE BEST. Thankfully this cast delivers -- Nina Stemme's dramatic soprano still remarkable for its warmth in the middle registers, Stuart Skelton stentorian as Tristan, Ekaterina Gubanova soaring in Brangäne's warning (the most beautiful music of the entire opera), and René Pape's King Marke a well-known, classic portrayal. Simon Rattle's conducting is more hard-charging than hypnotic. If you want Karajan-like lushness, you'll be disappointed.
I thought Mariusz Trelinski's production a bit cerebral and sterile when
I first saw it
-- the setting is a naval ship and Isolde's potion is made in a lab. Only the third act got strange with some flashback about little Tristan being a pyromaniac as a kid? But
Tristan
is one of those operas where the production doesn't really matter. At the end of the five hours, Isolde
will
go downstage center and use whatever resources she has left to sing the Liebestod and the final chord
will
finally harmonize and you
will
be transported. If you weren't, then you probably fled the house long before the Liebestod.
The Machine at work
Tuesday, March 24 Wagner's Das Rheingold Starring Wendy Bryn Harmer, Stephanie Blythe, Richard Croft, Gerhard Siegel, Dwayne Croft, Bryn Terfel, Eric Owens, and Hans-Peter König, conducted by James Levine. From October 9, 2010.
Wednesday, March 25 Wagner's Die Walküre Starring Deborah Voigt, Eva-Maria Westbroek, Stephanie Blythe, Jonas Kaufmann, Bryn Terfel, and Hans-Peter König, conducted by James Levine. From May 14, 2011.
Thursday, March 26 Wagner's Siegfried Starring Deborah Voigt, Jay Hunter Morris, Gerhard Siegel, Bryn Terfel, and Eric Owens, conducted by Fabio Luisi. From November 5, 2011.
Friday, March 27 Wagner's Götterdämmerung Starring Deborah Voigt, Wendy Bryn Harmer, Waltraud Meier, Jay Hunter Morris, Iain Paterson, Eric Owens, and Hans-Peter König, conducted by Fabio Luisi. From February 11, 2012.
Ah, the entire Ring cycle!
Audiences crave Ring cycles, and at this writing, there are no less than seven complete Ring cycles available on video. No Ring cycle is without major weaknesses -- it's simply too mammoth of a task to aim for perfection. There's so much ink that's already been wasted on the Lepage Ring that it's better just to say the weaknesses of the Machine are less apparent in HD.
The singing was vocally a mixed bag as well. I'll just focus on the positive: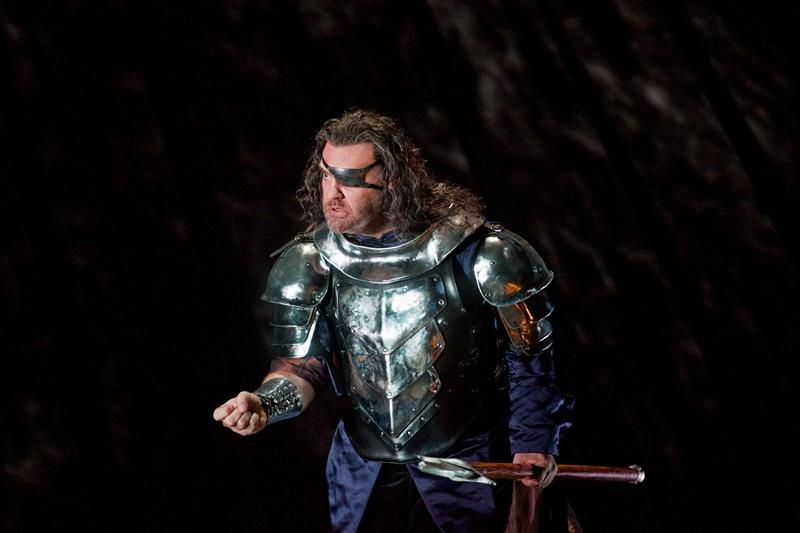 Bryn Terfel's Wotan, rocking that eyepatch
- Bryn Terfel's Wotan. It was shockingly the last time he ever sang at the Met. He has not returned to the Met since 2012. He was set to return this year but broke his foot and canceled
Dutchman
. His Wotan wasn't universally loved at the time but I miss his snarling, stern bass-baritone.
- Jonas Kaufmann's Siegmund. Ah, the days when JK wasn't as known for his cancellations as his appearances! Seriously though he's amazing in this -- looking back pre-2014 were his peak years when he looked great and sounded greater. His dark tenor sounded less throaty then. Also back then he didn't have to husband his resources as much as he does today. Siegmund, Parsifal, and Werther were IMO his three greatest Met appearances.
- Stephanie Blythe's Fricka. Blythe's voice was this immovable sheet of ice which made her Fricka terrifying and authoritative. Love Stephanie Blythe's recent forays into more comic roles but she's incredible here.
- Jay Hunter Morris's hearty, straightforward Siegfried. He was a
short-term replacement
but his Siegfried is one of the best things about this cycle. His voice isn't beautiful but he's one of the few singers who looks like he's having fun (!!!) as Siegfried. And FWIW
Siegfried
is IMO the most successful production in Lepage's cycle.
- Gerhard Siegel's Mime. One of the best character tenors of his generation doing his thing.
- Fabio Luisi's conducting in the last two operas of the cycle. Fabio Luisi is the One That Got Away for the Met -- he finally departed after years as the "Principal Conductor" ... but not Music Director. Back then the Met still held onto the pipe dream that James Levine would resume a full schedule and by the time Levine
was fired in 2018
Luisi was long gone.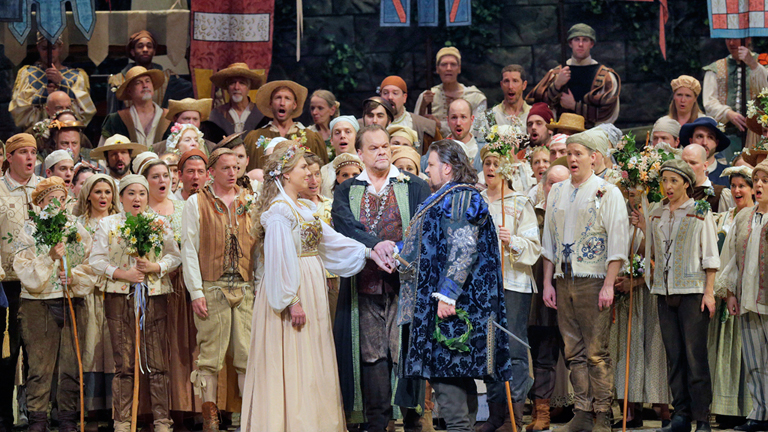 I want to like this opera
Saturday, March 28 Wagner's Die Meistersinger von Nürnberg Starring Annette Dasch, Johan Botha, Paul Appleby, and Michael Volle, conducted by James Levine. From December 13, 2014.
Die Meistersinger
is the one operas whose charms continue to elude me. I've tried many times. I just can't care about the characters, especially Hans Sachs who reminds me of those old college professors who just drone on and on until the entire lecture hall is asleep. I also don't like the Prize Song leitmotif so hearing it for the umpteenth time but sung-through in Act 3 doesn't give me the catharsis that Wagner no doubt intended.
With that being said, I'm going to try again this week. I do like Otto Schenk's picturesque production and Michael Volle in anything.
Botha and Mattei
Sunday, March 29 Wagner's Tannhäuser Starring Eva-Maria Westbroek, Michelle DeYoung, Johan Botha, Peter Mattei, and Gunther Groissböck, conducted by James Levine. From October 31, 2015.
James Levine's last stand? Very "Levine-esque" (read: "stately" to his fans., turgid to everyone else) reading of
Tannhäuser
in a very old-school production by Otto Schenk that's been around since before I was born. But this is a must-see for vocal reasons: the late Johan Botha was able to handle the challenges of the title role without sounding like he needed a ventilator (too soon?), Eva-Maria Westbroek brings her uniquely feminine, sweet radiance to Elisabeth, and Peter Mattei's Wolfram is music to the ears.
Richard Wagner made so many changes to
Tannhäuser
and was never satisfied. Towards the end of his life, he still wanted to revise it. Despite its piecemeal construction, the opera has some of Wagner's loveliest arias and two of Wagner's most majestic, thrilling moments -- one is the soaring Act Two concertato, and the other is the final Rome Narration and chorus. This is music that can lift your spirit right out of your body and into the cosmos. Isn't that what we all need right now?