Tiger King or Met Opera?
Since y'all not going to pretend that y'all aren't spending your quarantined days watching
Tiger King,
the seven-part Netflix series with a menagerie of characters so wacky and out there you can scarcely believe they really exist, this week's survey of the Met livestream offerings with just make comparisons to how watchable they are versus
Tiger King
.
So without further ado, here's the run-down of this week's Met streaming schedule (can you tell that I'm writing this between re-watching episodes of
Tiger King
?)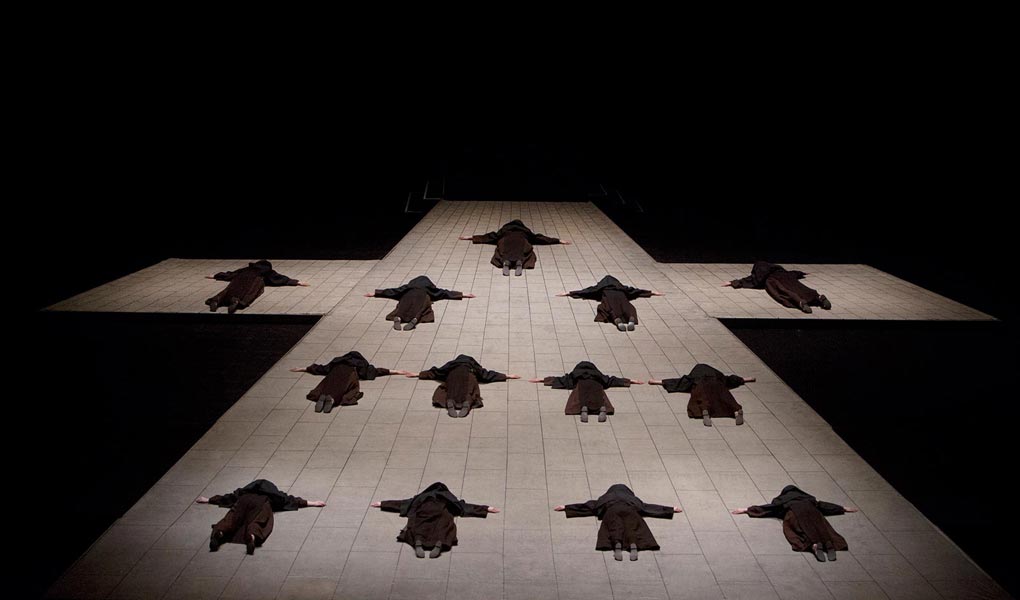 Monday, March 30 Poulenc's Dialogues des Carmélites Starring Isabel Leonard, Adrianne Pieczonka, and Karita Mattila, conducted by Yannick Nézet-Séguin. From May 11, 2019.
Hmm.
Dialogues des Carmélites
is the exact opposite of
Tiger King
. A group of nuns who sacrifice themselves for their religious beliefs is the sort of noble, inspiring, tear-jerking opera with the gut-wrenching ending that will give you hope for humanity, whereas
Tiger King
makes one think that humans are the least evolved species on earth. John Dexter's classic production is rightly praised for its effectiveness. The cast assembled last spring is good-to-excellent.
So I'd watch this
after
I found out about the swag that Joe Exotic sold during his campaign for president (!!!) and governor. Hint: you will never think about branded condoms the same way again.
Tuesday, March 31 Rossini's Il Barbiere di Siviglia Starring Joyce DiDonato, Juan Diego Flórez, and Peter Mattei, conducted by Maurizio Benini. From March 24, 2007.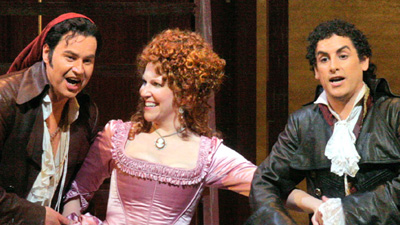 A top-notch cast of an opera that nevertheless IMO doesn't work very well on video. The exciting roulades of Rossini need to be heard in a theater for their full impact. Much of the humor is lost as well on video --
Barbiere
is one of those operas where the live laugh track of the audience really enhances the experience. But it's all good-natured, G-rated fun, and Joyce DiDonato and Juan Diego Flórez are Rossini specialists doing what they do best. Peter Mattei is pretty great too.
Nothing will ever convince me that JDF wasn't/isn't the best Almaviva that ever was or is:
Wednesday, April 1 John Adams's Nixon in China Starring Janis Kelly and James Maddalena, conducted by John Adams. From February 12, 2011.
I'm the wrong person to ask about this. I have parts of the Watergate tapes and transcripts memorized by heart and have watched and rewatched the David Frost interviews. I don't feel like any fictional portrayal of Nixon can capture the utter weirdness and awkwardness of the man himself. So I don't like John Adams' opera (and I love
Doctor Atomic
and
Death of Klinghoffer
). James Maddalena as Nixon is also caught way, way too late vocally -- he had been singing the part forever by 2011 and unfortunately sounds it.
"I Am the Wife of Mao Tse Tung" is however one worthy musical highlight of this opera. Still, Joe Exotic for President!
Thursday, April 2 Verdi's Don Carlo Starring Marina Poplavskaya, Roberto Alagna, Simon Keenlyside, and Ferruccio Furlanetto, conducted by Yannick Nézet-Séguin. From December 11, 2010.
Another offering where
Tiger King
wins. This new production of
Don Carlo
was a musically solid, satisfying night in the theater. Somehow that frisson did not translate to HD, where it's a four-hour glum-fest. No one really sings badly. Marina Poplavskaya is in good voice here -- this was in her five-minute prime. Alagna is a heartfelt Carlo. Anna Smirnova was a serviceable Eboli. Simon Keenlyside is very good as Rodrigo. Ferrucio Furlanetto isn't a real bass but sings with gravitas as Philip. It's just not a Met HD I return to. My problem.
Or maybe this opera just gives me the sads and then I think about poor Travis Maldonado's fate and that gives me the sads too ...
Friday, April 3 Bizet's Les Pêcheurs de Perles Starring Diana Damrau, Matthew Polenzani, and Mariusz Kwiecien, conducted by Gianandrea Noseda. From January 16, 2016.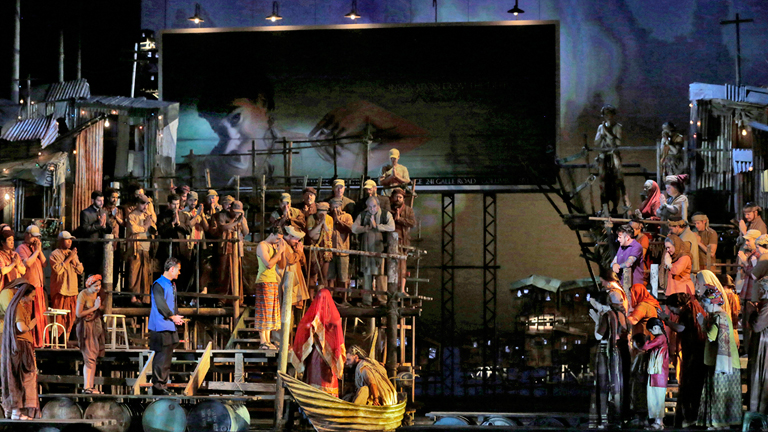 A lovely performance of a rather thin opera. It's two big tunes (the Nadir/Zurga duet and "Je crois") are within the first forty minutes. I enjoyed this in the house but when I rewatch it on Met Opera on Demand I'm reminded of all the reasons why this opera never found lasting staying power.
The cast does its best with this opera and the scenic production by Penny Woolcock has some cool wired "pearlfishers" but it's not enough to wrest me away from footage of Joe Exotic shooting the Carole blow-up doll.
Saturday, April 4 Verdi's Macbeth Starring Anna Netrebko, Joseph Calleja, Željko Lučić, and René Pape, conducted by Fabio Luisi. From October 11, 2014.
Now we're talking! Shakespeare/Verdi's tale of ambition, power, and matrimonial manipulation is way more exciting than the debate about whether Carole Baskin fed her husband to the tigers. So many years, so many parts, but Lady Macbeth is Anna Netrebko's best role. No other role fits both her voice and personality as well. Excuse my french but she fucking kicks ass as Lady Macbeth (literally -- she at one point gives her husband a swift kick in the rear). Netrebko's large, dark, somewhat throaty voice sounds properly sinister in Verdi's masterful music. This is amazing singing.
Željko Lučić also does some of his best work as Macbeth. Joseph Calleja as Macduff and René Pape as Banquo are luxury casting. Fabio Luisi's conducting is wonderful and again plummets me into a depression about how the Met threw away Luisi's talents.
Sunday, April 5 Bellini's Norma Starring Sondra Radvanovsky, Joyce DiDonato, Joseph Calleja, and Matthew Rose, conducted by Carlo Rizzi. From October 7, 2017.
And we finish the week with a pick where once again,
Tiger King
wins. Sondra Radvanovsky in the title role is so damned earnest. But for
Norma
I don't want earnest, I want rage, I want revenge, I want fireworks. In other words, I want Maria Callas. The whole performance is one of those sincere, sober affairs where you're bored out of your mind. David McVicar's production is super-tasteful and super-dull except for one cheeky detail: in Norma's hut abode there is a big, fancy, upholstered bed. Apparently imported by Pollione so he could screw Norma in the luxurious surroundings as befits a Roman general. Hee.
So head on over to
Tiger King
, where Joe Exotic marries three (!!!) straight guys in a squalid mobile home with tiger cub droppings everywhere. Fun.